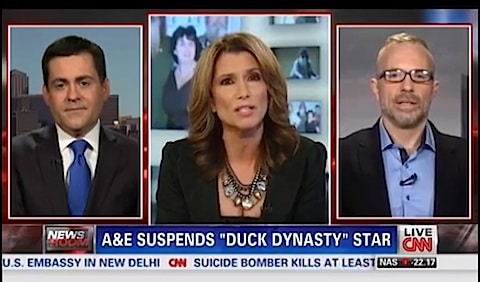 SiriusXM radio host Michelangelo Signorile debated Southern Baptist Ethics and Religious Liberty Commission President Russell Moore about the suspension of Duck Dynasty's Phil Robertson over anti-gay remarks he made in which he compared gays to terrorists and drunks, said they were going to Hell, and likened homosexuality to sex with animals.
Said Signorile: "I don't remember Governor Jindal putting out a statement calling for Martin Bashir of MSNBC to keep his job after he made what were seen as disrespectful statements against one woman, Sarah Palin….This man has attacked an entire group of people with horrific defamation. There should be ramifications. There should be outrage."
Moore argued that millions of religious people across the U.S. agree with Robertson's POV, adding, "A&E didn't hire the Robertson family to be Charlie Rose or George Will…they hired them to talk in an unfiltered sort of way."
CNN host Carol Costello interjected that Robertson's remarks were damaging to kids across the country who are bullied by the same types of remarks.
Watch, AFTER THE JUMP…