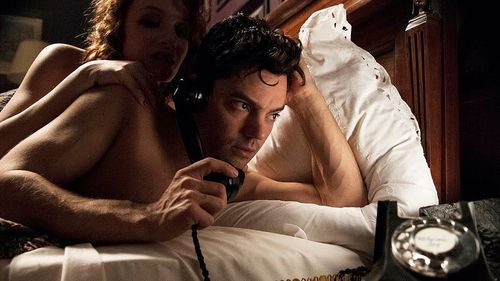 BBC America has released a trailer for their upcoming four-part miniseries Fleming: The Man Who Would Be Bond, which tells the story of Ian Fleming's inspiration behind Britain's most famous literary spy.
From the film's site: 
Set at the outbreak of WWII – mischievous playboy Ian Fleming is untroubled by the specter of impending war – chasing women, collecting rare books and living off his family fortune. Forever in the shadow of his brother Peter (Rupert Evans, World Without End), and an eternal disappointment to his formidable mother Eve (Lesley Manville, Maleficent), Fleming dreams of becoming the 'ultimate' man – a hero, a lover, a brute and the one who always gets the girl. He is finally given some direction in his life when he's recruited by the Director of Naval Intelligence, Admiral John Godfrey (Samuel West, Jonathan Strange & Mr Norrell), to help in the effort against the Nazis. Suddenly, Fleming finds his chance to shine and prove his worth.
Check out the trailer, AFTER THE JUMP…
Fleming: The Man Who Would Be Bond premieres Wednesday, January 29 @ 10 pm