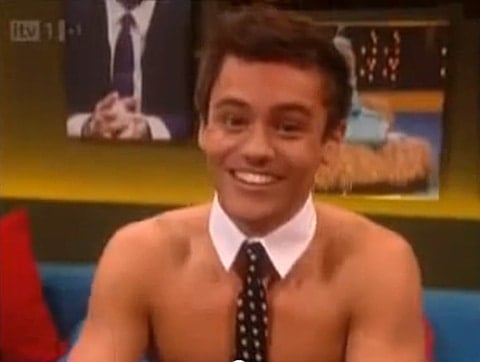 (Daley in a previous appearance on The Jonathan Ross Show. Clip, AFTER THE JUMP…)
Lengthy excerpts from a Tom Daley interview to be conducted by host Jonathan Ross on The Jonathan Ross Show on Saturday night have been published by the PA news wire that give further insight into the Olympic diver's coming out but still don't disclose who "the guy" is who's making the difference in Daley's life. British tabloids and U.S. entertainment site E! have both reported that it's Oscar-winning screenwriter Dustin Lance Black but neither Black nor Daley have confirmed it. Daley says it was "love at first sight."
Black did post the following tweet at the end of the day the news broke about Daley: "Slept all day today after my trip to Russia. Did I miss anything?"
Daley tells Ross he didn't know if the guy he's dating was gay:
"I didn't know what to do or if he was gay at first. I made the first move, I typed 'call me' in his notes with a smiley face on this phone and the next day he texted. He makes me feel safe and happy, right now I couldn't be happier. I'd never felt the feeling of love, it happened so quickly, I was completely overwhelmed by it to the point I can't get him out of my head all the time. I've never had it before where I love someone and they love me just as much.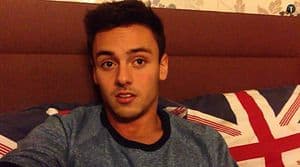 Daley also describes the pain of being closeted:
It felt like a dirty little secret, it felt like I had chains wrapped around me, I couldn't be who I was, I felt alone and trapped. Just telling one person made me feel so much better, just that one person took a weight off my shoulder. I told Sophie my best friend first as I knew she'd be really accepting of it. She's been so supportive and there for me. Now that everyone knows, I have nothing to hide, those chains that I felt wrapped around me are gone and I can carry on with my life as normal and be happy.
I felt like there was something wrong with me, I didn't know other people out there felt that way, I felt so alone, so locked away and couldn't say anything. Tell one person. Tell your story, how you feel. I've had people send some lovely Twitter messages with people telling me they've since come out to their parents, that they've had some hope, it shouldn't matter who I'm dating in this day and age. Be who you want to be.
And yes, he consciously eschewed putting a label on himself:
Everything is all pretty new so I don't see any point in putting a label on it – gay, bi, straight, any of those kind of labels. All that I feel happy about at the moment is that I'm dating a guy and couldn't be happier, it shouldn't matter who I'm dating and I hope people can be happy for me.
Daley says he's training full time for the Olympics now:
I'm training full time now and it's always tough the first year after the Olympics. I'm working hard and want to be at the Commonwealth Games in the best shape I possibility can. My dream is to get an Olympic gold medal and I hope Rio 2016 will be my chance to do that. London 2012 was an amazing experience and so was Beijing but as a diver you normally peak between 22-24 and I'll be 22 in Rio.
And his new relationship is motivating him:
He saved me from not wanting to dive anymore. After the Olympics I was down in the dumps, as it's such a hard way to get back into everything, but he gave me the extra motivation and made me work harder and that is exactly what I need. It was a terrifying decision to make, I didn't know what the reaction was going to be like, I didn't know how it was going to go but I felt I needed to say something. I wanted to say something in my own words and from the heart, I didn't know what else to do.
Watch a previous Tom Daley appearance on Jonathan Ross, AFTER THE JUMP…