Last night we reported on the deadly "witch hunt" currently underway for gay people in Africa. The situation is terrifying and grim. We also reported that several men had gone on trial in the Islamic northern Bauchi state.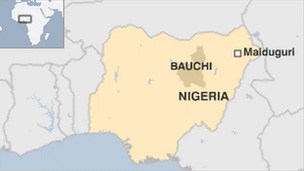 The BBC reports that at least one of those men has received punishment:
A Muslim man in the northern Nigerian city of Bauchi has received 20 lashes after an Islamic court convicted him of homosexual offences, a BBC reporter there says.
Under Islamic law, a homosexual can be sentenced to death by stoning.
However, the court said it took into account that the man committed the offence seven years ago, and had stopped the practise.
In related news, a Muslim rights organization is warning the West to not interfere with the newly-enacted law, the AP reports:
Muslim Rights Concern in a statement Thursday warns Western countries to "desist from interfering in its (Nigeria's) internal affairs."
…Muslim Rights says this confirms fears that the U.N. is a "tool of powerful capitalist nations."
The UNAIDS agency says the law could criminalize people in programs to fight HIV-AIDS. The U.S. says it violates the rights of all Nigerians to free speech and association.
Earlier…
Deadly 'Witch Hunt' on for Gays in Nigeria [tlrd]
16 Things You Should Know About the Anti-Gay Situation in Nigeria [tlrd]
UN Secretary General Ban Ki-Moon Expresses 'Deep Concern' Over Nigeria [tlrd]
Islamic Court Trial Begins for 11 Suspected Gay Men in Nigeria [tlrd]
Where Anti-Gay Laws are Concerned, Nigeria Is No Russia [tlrd]