Nigerian President Goodluck Jonathan has signed into law a bill banning gay marriage and public displays of homosexuality and relationships, as well as gay organizations and societies, Al Jazeera reports: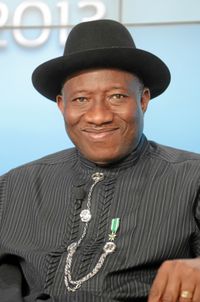 Jonathan's spokesman Reuben Abati said on Monday that the president signed the bill because it was consistent with the attitudes of most people towards homosexuality in the west African nation.
Under the terms of the law, anyone who enters into a same-sex marriage or civil union can be sentenced to 14 years in prison while any such partnerships entered into abroad are deemed "void".
It also warns that anyone who registers, operates or participates in gay clubs, societies and organisations or who directly or indirectly makes a public show of a same-sex relationship will break the law. Punishment is up to 10 years in prison, it adds.
Said Jonathan's spokesman:
"I can confirm that the president has signed the bill into law. More than 90 percent of Nigerians are opposed to same-sex marriage. So, the law is in line with our cultural and religious beliefs as a people. And I think that this law is made for a people and what [the] government has done is consistent with the preference of its environment."
The bill passed its final senate hurdle late in December. Jonathan's spokesman did not say when the President had signed the bill, but said he had done so sometime earlier this month.
Secretary of State John Kerry's full statement:
The United States is deeply concerned by Nigeria's enactment of the Same Sex Marriage Prohibition Act. Beyond even prohibiting same sex marriage, this law dangerously restricts freedom of assembly, association, and expression for all Nigerians. Moreover, it is inconsistent with Nigeria's international legal obligations and undermines the democratic reforms and human rights protections enshrined in its 1999 Constitution. People everywhere deserve to live in freedom and equality. No one should face violence or discrimination for who they are or who they love. We join with those in Nigeria who appeal for the protection of their fellow citizens' fundamental freedoms and universal human rights.