Actor Harold Ramis has died, Chicago's WGN reports: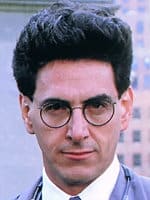 Ramis, a longtime North Shore resident, died early Monday morning after a long illness, according to his wife, Erica Mann Ramis. He was 69.
Ramis' serious health struggles began in May 2010 after he underwent surgery for diverticulitis and suffered complications related to the autoimmune disease. Unable to walk, he spent four months that year at the Mayo Clinic in Rochester, Minn., before continuing work at the Rehabilitation Institute of Chicago.
A year and a half later, Ramis had relearned to walk and was making good progress on his recovery when he suffered a relapse of the vasculitis, from which he never fully recovered, Ward said.
Ramis leaves behind a formidable body of work, with writing credits on such enduring comedies as "National Lampoon's Animal House" (which upon its 1978 release launched the film career of John Belushi, a former Second City castmate of Ramis'), "Stripes" (1981) and "Ghostbusters" (in which Ramis also co-starred) plus such directing efforts as "Caddyshack" (1980), "National Lampoon's Vacation" (1983), "Groundhog Day" and "Analyze This."