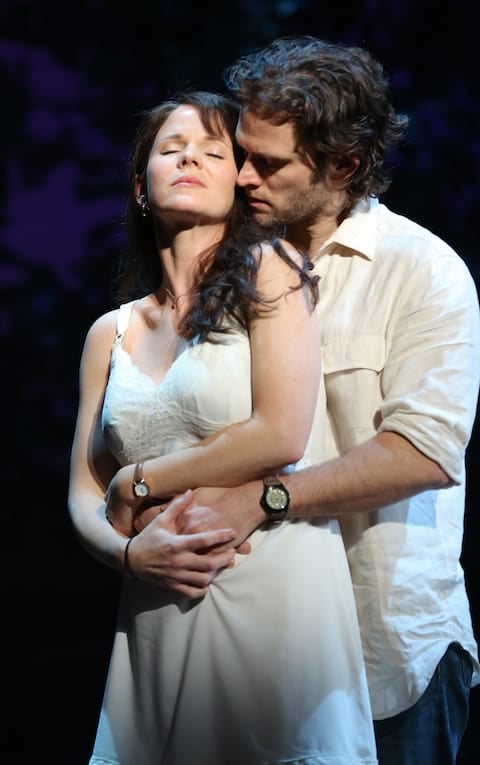 BY NAVEEN KUMAR
If the idea of a musical adaptation of The Bridges of Madison County sends your eyes to the back of your head, director Bartlett Sher's Broadway production, which opened on Thursday at the Schoenfeld Theatre starring the peerless Kelli O'Hara, will not only dispel your reasonable cynicism—it will likely take your breath away along with it. With music and lyrics by Jason Robert Brown (Parade, The Last Five Years) and book by Marsha Norman ('night Mother, The Secret Garden), it is one of the most beautifully sung love stories on Broadway in years.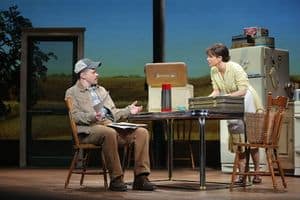 Like the Clint Eastwood 1995 film adaptation starring Eastwood and Meryl Streep (Oscar nominated for her performance, of course), the musical is based on the best-selling novel by Robert James Waller. It tells of a whirlwind 4-day affair in 1965 between Francesa, an Italian immigrant turned Iowa housewife and Robert, a world-traveled photographer on assignment taking snaps of the covered bridges of Madison County for National Geographic.
On the surface it seems like typical paperback fodder for a Harlequin romance, and in Eastwood's hands — despite his earnest artistry and Meryl being, well, Meryl —  amounts to little more. But in Sher's production, the affair to remember is at once vividly intimate and shaded with broader themes that resonate deeply in Brown's lovely score.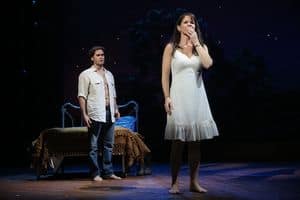 The show opens with O'Hara as Francesa (giving a career performance in what is already an illustrious one) singing about her immigrant journey, from growing up in Napoli to starting a family in Iowa.  Refreshingly simple sets by designer Michael Yeargan float into view as darkness is replaced by a simple home, and the distinct sense that Francesa is a fish out of water.
Her husband Bud (Hunter Foster, excellent), and children Carolyn and Michael (Caitlin Kinnunen and Derek Klena) are packing up for a trip to the state fair, while Francesca stays contently behind. Shortly after their departure, Robert (Steven Pasquale) drives up to the house looking for directions to the last bridge he is to photograph for his assignment.
What begins as an offer to ride along and give directions turns into an invitation inside to cool off afterward, followed by supper, and soon the inevitability of an affair that is the only true love each of them will know in their lifetime.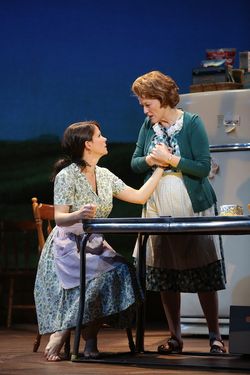 Brown makes sentiments that could easily sound clichéd ring poetic instead, in music that exhibits both operatic and more down-home influences. Songs about time and distance articulate the lovers' romance — how far each of them has traveled to meet (in this of all places), how long it's taken them to reach each other, how little time they have together. And later, songs about seeing and being seen express the potential for loneliness while being surrounded by (supportive yet prying) neighbors, and of feeling invisible until discovered by a great love.
Pasquale, who also played opposite O'Hara in Far From Heaven Off Broadway last summer, makes a strong Broadway musical debut, and the two work wonderfully together. Other standouts in the company include Cass Morgan as Francesa's endearingly nosey neighbor Marge, and Michael X. Martin as her devoted husband.
Previous Broadway collaborations between Sher and O'Hara have been no less captivating, including the recent acclaimed revival of South Pacific, and The Light in the Piazza several years before (in which Pasquale played the leading man out of town, but was unavailable when the show came to Broadway). Seeing all three come together is almost as thrilling as the long weekend affair—though certainly more fruitful.
Recent theatre features…
Pulitzer Prize Winning 'Dinner With Friends' Opens Off Broadway: REVIEW
Drag Impresario Charles Busch Dolls Up For 'The Tribute Artist': INTERVIEW
'Beautiful: The Carole King Musical' Opens On Broadway: REVIEW
Towleroad's Top Ten Best Plays and Musicals of 2013
Ethan Hawke Stars In 'Macbeth' on Broadway: REVIEW 
Follow Naveen Kumar on Twitter: @Mr_NaveenKumar (photos: joan marcus)