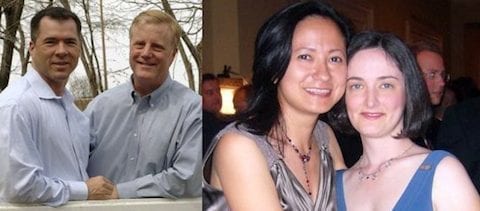 A federal judge has struck down Texas' ban on gay marriage, relying on the Supreme Court's decision in the Edie Windsor case to do so.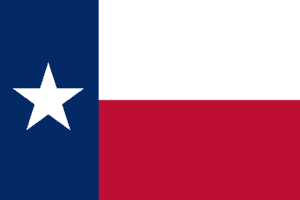 Two couples are involved in the case. Mark Phariss and Victor Holmes decided to file suit after being denied a license in San Antonio in October. And Cleopatra De Leon and Nicole Dimetman, who were married in Massachusetts, say Texas officials are violating their rights and those of their child by not recognizing their marriage. Attorney Daniel McNeel Lane represents both couples.
LoneStarQ reports:
U.S. District Judge Orlando L. Garcia granted a preliminary injunction that would bar Texas from enforcing the bans pending trial.
However, Garcia stayed his decision pending an appeal to the 5th U.S. Circuit Court of Appeals in New Orleans. Even if he had not stayed the decision, the preliminary injunction would have applied only to the two same-sex couples who filed the lawsuit challenging the marriage bans, known as DeLeon v. Perry.
"The issue before this court is whether Texas' current definition of marriage is permissible under the United States Constitution," Garcia wrote in his 48-page decision. "After careful consideration, and applying the laws as it must, the Court holds that Texas' prohibition on same-sex marriage conflicts with the United States Constitution's guarantees of equal protection and due process," Garcia wrote. "Texas' current marriage laws deny homosexual couples the right to marry, and in doing so, demean their dignity for no legitimate reason. Accordingly, the Court finds these laws are unconstitutional and hereby grants a preliminary injunction enjoining Defendants from enforcing Texas' bans on same-sex marriage."
Read the ruling here.
LoneStarQ adds:
In granting the preliminary injunction Garcia found the plaintiffs met a four-pronged test: They showed a likelihood of success at trial; they showed that continued enforcement of the marriage bans would cause irreparable harm; they showed that this harm outweighs any potential harm to the defendants; and they showed that an injunction would serve the public interest.
The case went before Garcia in February.
"Today's court decision is not made in defiance of the great people of Texas or the Texas Legislature, but in compliance with the U.S. Constitution and Supreme Court precedent," he said in his order. "Without a rational relation to a legitimate governmental purpose, state-imposed inequality can find no refuge in our U.S. Constitution."
But Garcia's ruling, while a major victory for groups seeking to make marriage legal for gay and lesbian couples nationwide, will not win them Texas marriage licenses anytime soon.
Although Garcia issued a preliminary injunction against the state's enforcing its 2003 law and 2005 constitutional amendment that limit marriage to opposite-sex couples, he stayed it from taking effect until his ruling can be reviewed on appeal.
Attorney General Greg Abbott, who is running for governor, is almost certain to appeal. Most legal experts expect Garcia's ruling, or similar ones by federal judges in other states, to eventually reach the U.S. Supreme Court.
The case he ruled on was brought by two gay men from Plano who want to get married and two Austin lesbians who want Texas to recognize their out-of-state marriage. It is one of three federal lawsuits challenging the Texas ban — and the furthest along. Nationally, similar battles are underway in federal courts in 23 states.
Federal judges in Kentucky, Virginia, Utah and Oklahoma have all struck down state bans on gay marriage since the Supreme Court DOMA decision last June.