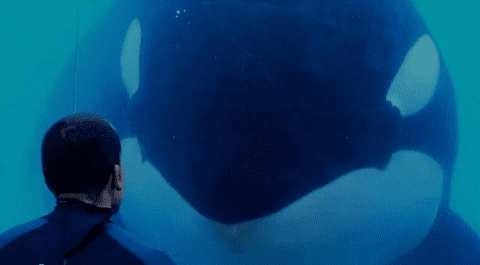 Legislation banning the captivity of orcas for entertainment is being introduced in California by Assemblyman Richard Bloom (D-Santa Monica), Take Part reports:
State Assemblymember Richard Bloom, D–Santa Monica, will introduce Friday the Orca Welfare and Safety Act, which would make it illegal to "hold in captivity, or use, a wild-caught or captive-bred orca for performance or entertainment purposes." The bill would also ban artificial insemination of captive killer whales in California and block the import of orcas or orca semen from other states.
Violators would face a fine up to $100,000 and/or six months in a county jail.
"There is no justification for the continued captive display of orcas for entertainment purposes," Bloom declared in a written statement prior to a press conference to be held at the Santa Monica Pier. "These beautiful creatures are much too large and far too intelligent to be confined in small, concrete pens for their entire lives. It is time to end the practice of keeping orcas captive for human amusement."
Sea World released a statement:
"While we cannot comment on Assemblyman Bloom's proposed legislation until we see it, the individuals he has chosen to associate with for today's press conference are well known extreme animal rights activists, many of whom regularly campaign against SeaWorld and other accredited marine mammal parks and institutions.
"Included in the group are some of the same activists that partnered with PETA in bringing the meritless claim that animals in human care should be considered slaves under the 13th amendment of the U.S. Constitution – a clear publicity stunt. This legislation appears to reflect the same sort of out-of-the-mainstream thinking.
"SeaWorld, one of the world's most respected zoological institutions, already operates under multiple federal, state and local animal welfare laws.
"In addition to being one of the most respected members of the business community, SeaWorld also is a global leader in the zoological and animal welfare world. We are deeply committed to the health and well-being of all of our animals and killer whales are no exception.
"Our passionate employees are the true animal advocates – the pioneering scientists, researchers, veterinarians, trainers, marine biologists, educators, aquarists, aviculturists and conservationists who for 50 years have cared for the animals at SeaWorld and also saved thousands in the wild that are injured, ill or orphaned.
"We engage in business practices that are responsible, sustainable and reflective of the balanced values all Americans share."
The legislation was spurred by the documentary Blackfish, according to USA Today.