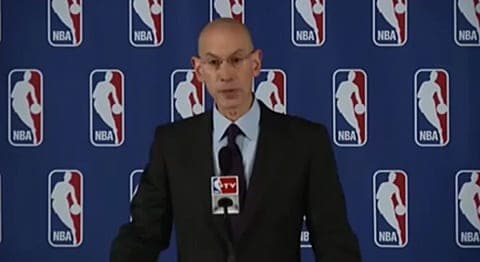 NBA Commissioner Adam Silver has banned L.A. Clippers owner from any NBA activities for life and has fined him $2.5 million. Silver made the announcement in a press conference on Tuesday afternoon.

Said Silver: "Effective immediately, I am banning Mr. Sterling for life from any association with the Clippers organization or the NBA," Silver said. "Mr. Sterling may not attend any NBA games or practices. He may not be present at any Clippers facility. He may not participate in any business or player personnel decisions. … He will also be barred from attending Board of Governors meetings."
Silver also said he would push Sterling to sell the Clippers.
Sterling came under fire over the weekend after a recording surfaced of him telling his girlfriend V. Stiviano not to associate with black people or bring them to his games.
The Clippers released this statement on the team website: