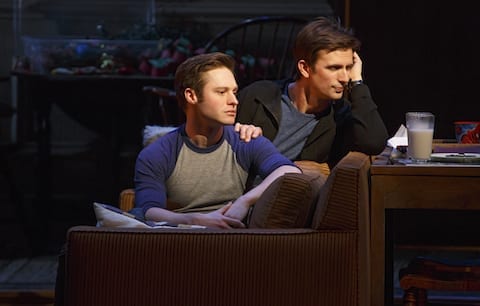 BY NAVEEN KUMAR
In his new play Mothers and Sons, which opened on Broadway March 24 at the Golden Theatre, Terrence McNally offers a present snapshot of lives affected by the height of the AIDS crisis—a mother who lost her son in his prime, and the lover who survived him to eventually start his own family. While voicing a crucial chapter in LGBT history that bears repeating, the play feels more like a set of talking points about affluent gay male experience than a well-crafted drama.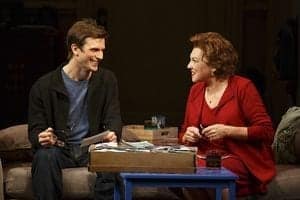 A wry, acerbic Tyne Daly is the play's emotional center (and indisputable highlight) as Katharine Gerard, the stubbornly intolerant mother to Andre, who died 20 years before the show begins. She arrives unannounced on the doorstep of her son's lover Cal (Frederick Weller), who cared for him until his death. Cal has a husband now, Will (Bobby Steggert), 15 years his junior, and a 6-year-old son Bud (Grayson Taylor).
Ensconced in a massive, tasteful apartment (designed by John Lee Beatty) with a sweeping view of Central Park, by all accounts the young family couldn't be happier. Cal is a successful money manger, Will is a stay-at-home writer-cum-full-time father, and Bud is so utterly self-possessed he could be a poster child for This Gay American Life.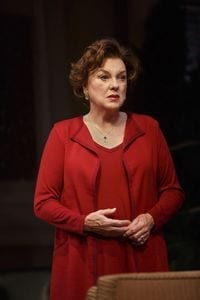 And so, of course, history comes knocking. Why Katharine stops by and what she wants remain something of a mystery throughout, but mostly it's to drum up ghosts and open old wounds. Hers, it seems, have never healed, and she quickly resents Cal for moving on and starting a family with Will.
Ms. Daly is top notch, her dry wit and razor sharp delivery bringing to mind another Katharine — Hepburn, just past her prime fighting years. Her ability to draw out our sympathy for a prickly, somewhat bigoted and often bitter woman is impressive, especially given her role as the play's antagonist in an argument for progress.
In all fairness to Katharine, that argument is mostly one-sided, as she becomes a sounding board with her stockings firmly planted on the wrong side of history. The evening's bullet points fly at her from two directions—from Cal, who saw many of his peers die from AIDS, and Will, who grew up with a Millennial's expectations of a gay life not much different from those of his straight peers.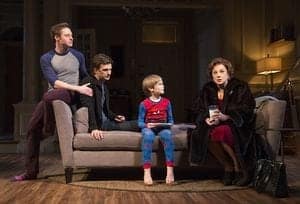 Where Katharine's arsenal is full of biting, amusing one-liners, Cal and Will speak as though life were a sort of elite cocktail party where being pedantic is part of the dress code. While we're surely on board with most everything they say, it's hard to really get behind them (except maybe to slip away and find someone less self-serious to mingle with).
For those, like Katharine, with a ways to go in opening their minds, McNally provides worthwhile, critical instruction. Though the play's rallying cry for tolerance, and for respect to those we lost in our culture war's most gruesome era would be that much more moving and persuasive were its gay characters a bit more flesh and blood. 
Recent theatre features…
New Production of 'Les Misérables' Opens On Broadway: REVIEW
New Musical 'Rocky' Opens On Broadway: REVIEW
Bryan Cranston Goes 'All the Way' On Broadway As Lyndon B. Johnson: REVIEW
Possessed Puppet Satire 'Hand to God' Opens Off Broadway: REVIEW
New Musical 'The Bridges of Madison County' Opens On Broadway: REVIEW
Follow Naveen Kumar on Twitter: @Mr_NaveenKumar (photos: joan marcus)