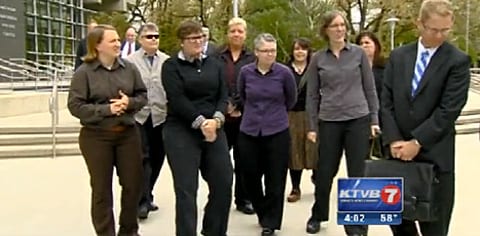 A federal judge has struck down Idaho's ban on gay marriage.
Boise's KTVB reports:
U.S. District Magistrate Candy Dale issued a memorandum decision and order this afternoon in the case of four same-sex couples who challenged the constitutionality of Idaho's marriage laws, which voters approved as an amendment to the state constitution in 2006.
Gov. Butch Otter (below) is appealing the injunction. Unless a higher court grants that appeal, Idaho must allow same-sex marriage, and recognition of existing legal same-sex marriages after 9 a.m. Friday.
The Idaho Statesman reports:
In her 57-page decision, Dale stated, "Idaho's Marriage Laws withhold from them a profound and personal choice, one that most can take for granted. By doing so, Idaho's Marriage Laws deny same-sex couples the economic, practical, emotional, and spiritual benefits of marriage, relegating each couple to a stigmatized, second-class status. Plaintiffs suffer these injuries not because they are unqualified to marry, start a family, or grow old together, but because of who they are and whom they love."
This is the 16th consecutive win in the state and federal court since June, with 0 losses, according to Freedom to Marry.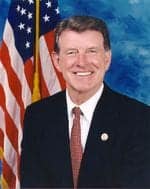 NCLR, which led the case on behalf of the plaintiffs, reports via press release:
Today, a federal district court in Boise issued a decision striking down Idaho's ban on marriage for same-sex couples and ordering the state to allow same-sex couples to marry in Idaho and to recognize the marriages of couples who married in other states. The court's order takes effect at 9:00 a.m. Mountain time on May 16. The case was brought by four same-sex couples represented by Boise attorneys Deborah A. Ferguson and Craig Durham and the National Center for Lesbian Rights (NCLR). 

The couples argued that Idaho's ban on marriage for same-sex couples cannot stand in light of the United States Supreme Court's ruling last June that the federal "Defense of Marriage Act" violates the federal constitutional guarantees of equal protection and due process. The decision marks the  eleventh federal court since last summer's Supreme Court decision to rule in favor of the freedom to marry for same-sex couples, including federal courts in Utah, Ohio, Oklahoma, Kentucky, Illinois, Indiana, Michigan, Tennessee, Texas, and Virginia. 

The couples are Susan Latta and Traci Ehlers, and Lori and Sharene Watsen, who are legally married and asked Idaho to recognize their marriages, and Shelia Robertson and Andrea Altmayer, and Amber Beierle and Rachael Robertson, who seek to marry. 

Said Ferguson: "Today's decision affirms the fundamental principles of equality and fairness and the common humanity of gay and lesbian people. As the Court recognized, these families are part of Idaho's community, and equal protection requires that they be given the same legal protections and respect as other families in this state. The Court's ruling is a victory not only for the courageous couples who brought this case, but for everyone who cares about freedom and fairness."

Added Latta: "After living in Idaho for more than two decades, it means so much for a court to recognize our family and say that we must be treated equally. We love this state and want nothing more than to be treated as equal citizens who contribute to the community and help make Idaho an even better place for everyone who lives here. Today's ruling means that we can finally have the same legal protections as other married couples and the security of knowing that our family is legally secure."
Read the ruling HERE.