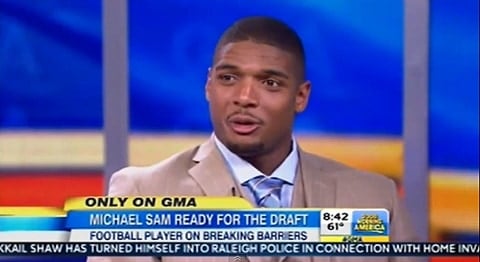 NFL hopeful Michael Sam appeared on Good Morning America with Robin Roberts this morning ahead of the draft, which begins tomorrow at Radio City Music Hall. If all goes well (experts says he'll get picked late, if at all – others call his chances 50-50) he'll emerge as the first active openly gay player in the NFL.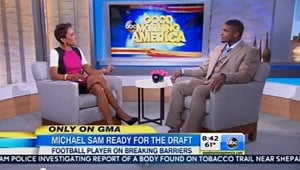 Sam sat down (note: he has declined interviews with both ESPN and NFL Network this week) to talk with Roberts about his excitement about the draft, and the reaction to his coming out.
Sam also told Roberts he has heard from other gay players:
"You know, on the night of my announcement – that week I had gotten so many emails, so many text messages, from college and NFL players, and other athletes in the sport industry about how courageous I was. (They) themselves are closeted homosexuals. So yeah, I'm not the only one. There's a lot of us."
WATCH THE INTERVIEW, AFTER THE JUMP…
A big announcement was also made – Sam will receive the Arthur Ashe Courage Award at the 2014 ESPYs this year on July 16.
The AP writes:
Sam joins a prestigious list of winners ranging from Jim Valvano, the first recipient in 1995, to Muhammad Ali, Billie Jean King, Cathy Freeman, Nelson Mandela and Pat Summitt.
The award, of course, is named for Ashe, the inspirational tennis star who died in 1993 after contracting AIDS from a blood transfusion. After learning he had the disease, Ashe campaigned to raise awareness about AIDS.
"Arthur always believed in and practiced leading by example," said Ashe's widow, Jeanne Moutoussamy-Ashe. "When Michael Sam announced that he is gay, he courageously stepped forward to engage an issue that still remains a pervasive problem in many professional sports. Michael has displayed true leadership both on and off the field."
In related news, the NFL may have a big PR problem on its hands if Sam doesn't get drafted, according to former player Wade Davis, who spoke with Ken Babb in the Washington Post:
If that happens, Davis said, the perception won't be that it was because of Sam's ability.
"The NFL kind of has no win in this situation," said Davis, who himself came out after his NFL career ended and is now a gay-rights activist. "Because if he doesn't get drafted, it's going to be positioned that he didn't get drafted because he's gay."
…Put simply: The NFL would avoid a major public-relations headache if, at any point this weekend, a team uses a draft pick — seen as perhaps the league's most valuable currency — on Sam, who Davis said wasn't planning to stay in New York for the draft and would instead watch the selection show among friends and family in his native Texas. If he goes undrafted or isn't even signed as a free agent, the NFL's message of progress and preparedness for a gay player becomes a more difficult sell.
WATCH THE INTERVIEW, AFTER THE JUMP…
If you enjoyed this post, please consider SHARING it on social media.
Also, please LIKE us on Facebook, and follow us on Twitter, and Instagram.