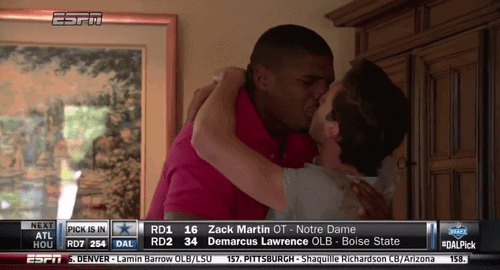 HuffPost editor Michelangelo Signorile has launched a Facebook "kiss-in" in response to negative reactions over the Michael Sam kiss.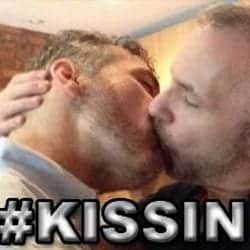 He writes:
People just aren't used to seeing two men or two women kissing, even with all the news coverage of gay marriage. Judging by some of the reactions to the Sam/Cammisano kiss, I'm not sure what they think gay men in relationships do. Play checkers? (Well, maybe sometimes.) We see straight people kissing all the time, all over television, in magazines, in films, on the Internet. A lot of people who consider themselves pro-gay probably are uneasy about seeing gays kissing, just like a lot of people who in the past said they supported interracial marriage were probably uneasy when they saw two straight people of different races kissing (and some still are). And in this case, it's a gay black man and a gay white man kissing.
Signorile urges Facebook users to change their profile photos to two women or two men kissing.
He also references an article by Mark Joseph Stern at Slate which raises some of the same issues.
Stern makes a good case for why the negative reactions to the ESPN coverage of Michael Sam's emotional kiss with his boyfriend prove gay people need to be more affectionate in public. 
Supporting gay rights means supporting gay people. And you can't support gay people if you're disgusted by their most basic and innocuous displays of affection.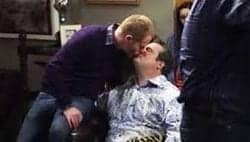 Still, on an emotional level, I can understand why an otherwise goodhearted straight person's knee-jerk response to a gay kiss lands on the spectrum of discomfort. Gay PDA remains startlingly rare in 2014, thanks to an overwhelming history of anti-gay animus that makes every public kiss more than a little bit fraught. Even an ostensibly gay-friendly TV show like Modern Family gives mainstream America barely a glimpse at same-sex affection. And there's an obvious feedback loop problem here: So long as gay people are uncomfortable kissing in public, straight people won't be comfortable seeing it; so long as straight people are uncomfortable seeing it, gay people will hesitate to do it.
There's really only one way to break this impasse: more gay kissing. Straight Americans needs to see more same-sex affection, and LGBTQ Americans are the only people who can provide it. Gay couples shouldn't shrink from sharing a kiss in public, even if they risk drawing annoyed glances or angry tweets. Ten years ago, gay people were instructed to hide their sexuality lest they rub it in everyone's faces. Today, we're being told not to kiss in public—under the exact same rationale. There's no reason to accept this pathetically irrational, plainly prejudiced party line. We should all be grateful to Michael Sam for sparking this conversation with his much-ballyhooed (and very innocent) kiss. But if we truly want to do justice to Sam's already admirable legacy, we owe it to ourselves to follow his lead.