Florida Attorney General Pam Bondi, who last week asked a federal judge to throw out a lawsuit against the state on behalf of eight gay couples seeking recognition of their marriages, saying it would "impose significant public harm" and damage the institution's real purpose (children having mothers and fathers), released a statement today taking exception to those who are angry about it.
Writes Bondi, in part: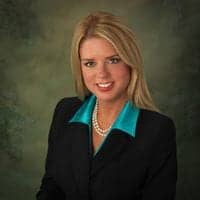 "In 2008, Florida voters amended their state constitution to define marriage as a union between a man and a woman. In response to a recent challenge to this provision, and in keeping with my sworn duty to uphold the laws of the land, my office recently filed a legal brief defending the voters' decision.
"The fundamental argument of our brief is that the voters had the right to adopt this definition of marriage, just as they have the right in the future to change their minds and afford legal recognition to same sex marriage, should they so choose.
"Defending the wishes of the voters who enacted Florida's marriage amendment necessarily requires me to make good faith legal arguments. In presenting those arguments, my office understands and respects that there are many who profoundly disagree with the voters' decision. But anything less than the best defense of our voters' policy preferences would disenfranchise the electorate, undermine the judicial process, and cast aside the professional responsibility that guides me every day as Attorney General.
The subject of same sex marriage is understandably a matter of intense personal concern and sensitivity for Floridians on all sides of the debate. While defending this constitutional amendment, we have remained respectful and showed consideration for those with differing viewpoints—acknowledging in the introduction that this issue is one with 'good people on all sides.'
"Therefore, I take exception to those who have sought to manipulate our brief, trying to make it something it is not. The brief does not argue for or against same sex marriage as a matter of policy, wisdom, or fairness. Those decisions are for the voters of each state, not for lawyers or courts. It is my duty to protect Florida from the "harm" of a federal injunction overriding the will of Florida voters.
"Some states recognize same-sex marriage, and some states do not. As the brief explains on pages two and three:
'This case is not about which policy choice is better or worse. And this case is not about whether the debate should continue (which it surely will). This case is about whether states can make their own determinations.
Bondi adds:
"Our brief makes the case in defense of Florida's marriage amendment with great respect for the plaintiffs and those whom they represent. Any suggestions to the contrary are not only wrong, but hurtful, designed to inflame, and insulting to everyone involved. When I defend the voters' decisions with professionalism and civility, I'm simply doing my job because my job is not to write the law, but to defend it."