Illinois' marriage equality law takes effect today: June 1.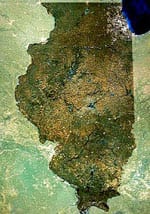 Although some county officials began issuing licenses several months ago thanks to a federal court ruling, today is the day it is legal across the Land of Lincoln!
Said Governor Pat Quinn in a statement: "All couples across Illinois can now receive the rights and protections under the sacred vow of marriage. The Land of Lincoln has always been a place to embrace all people and today we stand as an example for the rest of the nation."
Here's an FAQ from ACLU about the Illinois marriage law.
The AP reports:
"June 1 will be a history-making day in Illinois," said Bernard Cherkasov, CEO of the gay rights group Equality Illinois. "At long last, the state will recognize their families for what they are: which is equal in love, equal in commitment and equal in marriages."
Macon County Clerk Stephen Bean said he plans to be in his Decatur office Sunday to issue the licenses. His office opened at midnight when Illinois began issuing civil unions in 2011 and was among the 16 or so that began issuing marriage licenses earlier this year ahead of the June 1 rollout.
"I had made a commitment to several of the couples who'd gotten civil unions to be open," he said. "We have some couples that wanted to wait until the first official day, so I'm going to come in for a couple of hours."
On Monday, the lead plaintiffs in Lambda Legal's successful Illinois lawsuit will be among 15 couples marrying at the Museum of Contemporary Art, the HuffPost reports: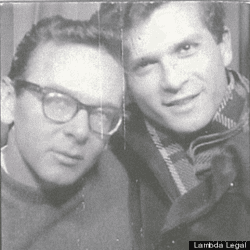 In other respects, Darby, 81, and Bova, 76, are already married. In 1995, they "wed" in an impromptu ceremony at the grave of Sgt. Leonard Matlovich, the first gay servicemember to out himself, in Washington's Congressional Cemetery. As of July, the couple will have been together for 51 years.
Once they complete their vows, Darby and Bova will officially be husband and husband in the eyes of the law, giving them new rights, obligations and protections beyond the civil union they entered in 2011.
Darby, a veteran of the Korean War, said he didn't expect he would live to see his wedding day.
"I did not think this would ever come," Darby told The Huffington Post. "I was involved with the gay veterans for 20 years and it seemed like Don't Ask Don't Tell would never come to an end. And when it did, it came so fast we were almost caught by surprise."
More on the couple's journey at the HuffPost….
NBC Chicago reports:
Cook County Clerk David Orr said he has already issued nearly 1,600 marriage licenses to same-sex couples and wedding planners say the industry is seeing a major boost heading into the weekend.
"We've seen a huge uptick already," said Tracy Baim, owner of Keith House in Chicago's South Loop. "Really it's a pent up demand. We have people together 30-40 years that never had a chance to get married."
Baim says she's seen about a 20-percent increase in her bookings and economists predict big money in Illinois thanks to a same-sex wedding boom.