Fearmonger Dick Cheney predicts 'far deadlier' attack than 9/11 in next decade.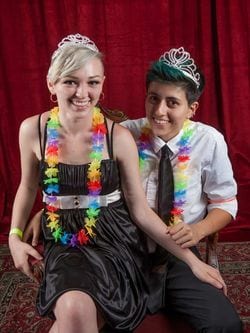 Photos from America's longest-running gay prom: "This may be just another prom, among the thousands played out in cafeterias and ballrooms across the country every spring. But here at Chabot College, the prom these teenagers are skipping, smiling, and fist-pumping about is also the nation's oldest gay prom. And each time it happens—this year's was the 20th—it is a kind of victory not just for organizers, but for kids who often—still—have nowhere else where they can truly be themselves."

Gary Oldman apologizes to the Anti-Defamation League for anti-Semitic remarks in Playboy. Will he apologize to GLAAD too?

Colorado state swimming champ Jack Thorne comes out of the closet: "I've spent months trying to figure out how to do this, when to do this and I've realized there's never going to be the perfect time to say what I want to say. But there's no time like the present."

Lupita Nyong'o is flawless, of course, in her first Lancome ad.

Hugh Jackman's pirate beard is glorious.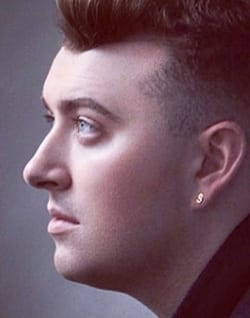 Sam Smith shatters records with highest UK male debut first week sales. "According to an official press release from the singer, Smith's critically acclaimed debut studio album In The Lonely Hour will land on the Billboard 200 Albums chart at #2 this week (which means Lana Del Rey's snagged herself that #1, after all), selling over 166,00 copies. In addition, Sam's album was also the fastest selling debut of 2014 in the UK."

David Muir to succeed Diane Sawyer as ABC World News anchor.

Tilda Swinton and Channing Tatum are going to appear together in a Coen brothers film: "They join George Clooney and Josh Brolin who have already signed on to the film, which will focus on a 'fixer' hired by a film studio to keep its wayward and scandalous stars in check."

Trailer: Brad Pitt in Fury.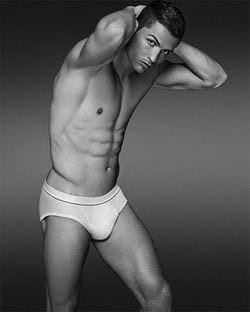 Cristiano Ronaldo has his own documentary, narrated by Benedict Cumberbatch.

Kirtland Air Force Base in New Mexico will host an LGBT Pride picnic: "For the first time ever, the base will host a pride picnic on Thursday from 11 a.m. to 2 p.m. at Millennium Park. The cost is $5."

Paper: The 30 best gay bars in Manhattan.

New area of ocean floor scanned for MH370.

North Carolina middle school students fight to form Gay-Straight Alliance: "GSAs are nationally backed school clubs that offer support and counseling for LGBT students. Federal law requires public schools to allow students to form GSAs, but, without explanation, administrators at A.L. Stanback prevented the group from forming for more than two years. 'I'm kind of stunned, I don't understand what the hesitation would be,' says Stephen Halkiotis, vice chairman of the Orange County Board of Education and a longtime principal. 'If it's legal and it's responsible to do it, you've got to do it.'"