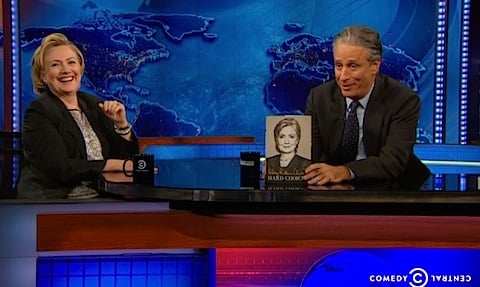 Hillary Clinton joined Jon Stewart on The Daily Show last night to talk about writing her book Hard Choices, whether she enjoys a certain shape for her home office (such as oval), the "cottage industry" of attacks on her, the "dead broke" comment, income inequality, and doing something about young people who are neither in school, nor in work.
The interview is in four parts, AFTER THE JUMP…
Part 2:
Modernizing the State Department, the bureaucracy of government, the empowerment of people by the internet and how it affects government and leadership, the context of the U.S., what it stands for, and how we've tried to move the world toward democracy and freedom, how American culture and ideas are important in teaching the world about who we are.
Parts 3 and 4:
The conflict between Hamas and Israel, and the humanitarian crisis in Gaza. The peace process and previous attempts to come to agreements in the region, and making….hard choices.
Watch, AFTER THE JUMP…
Part 2:
Part 3:
Part 4: