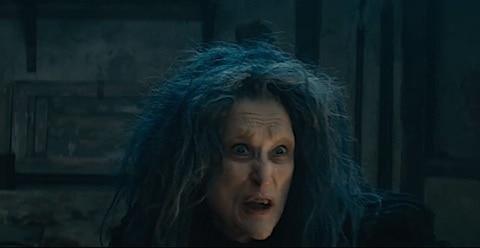 Disney's next holiday must-see Into the Woods has just released its first trailer to get audiences excited about the cinematic adaptation of the Broadway musical – though there is no singing here.
Following the dark-but-not-really fantasy tone set by Maleficent, Into The Woods gets into a fairytale mashup with interwoven stories of Jack and the Beanstalk, Rapunzel, Cinderella, and Little Red Riding Hood, all centered around the wishes of a humble baker's family and the Meryl Streep (above) who cursed them.
Also starring Emily Blunt, James Corden, Anna Kendrick, Chris Pine, and Johnny Depp – who is no Bigby Wolf, but he'll do - Into The Woods will open on December 25th.
You can watch the trailer AFTER THE JUMP…