Read Salem Mayor Kimberley Driscoll's awesome response to right-wing critics following her decision to end a city contract with an anti-gay Christian college.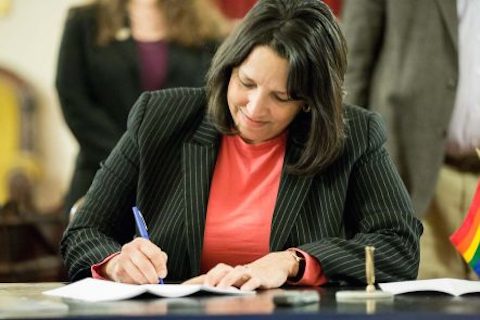 On Wednesday we reported the decision by the City of Salem, Massachusetts, to kill a contract with anti-gay Gordon College.
Under the contract, the college operated the city's Old Town Hall.  College president Michael Lindsay was one of more than 140 signees of a letter to Barack Obama seeking exemptions from a pending executive order which aims to prevent work discrimination by federally funded organizations.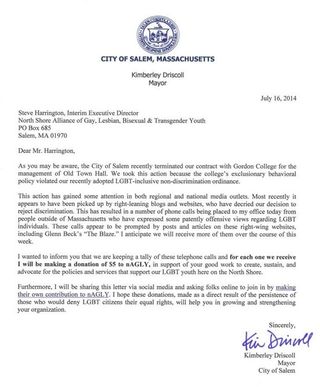 Speaking to The Christian Post, Salem Mayor Kimberley Driscoll said that Gordon College's "behavioral standards" policy, which specifically forbids "homosexual behavior," "is in violation of the LGBT-inclusive non-discrimination ordinance that was unanimously adopted by the Salem City Council earlier this year."
Driscoll has since published an awesome letter defending Salem's inclusive policies and calling out attacks made by right wing blogs and websites.  Specifically citing wingnut Glenn Beck's The Blaze, Driscoll writes that "this has resulted in a number of phones calls being place to my office from people outside of Massachusetts who have expressed some patently offensive views regarding LGBT individuals."
In response to the barrage of phone calls, Driscoll goes on to say "we are keeping a tally of these phone calls and for each one we receive I will be making a donation of $5 to nAGLY [North Shore Alliance of Gay, Lesbian, Bisexual and Transgender Youth], in support of your good work to create, sustain, and advocate for the policies and services that support youth here on the North Shore."
Driscoll also asks that individuals make contributions to nAGLy as a response to "the persistence of those who would deny LGBT citizens their equal rights." 
Watch a video introducing nAGLY, AFTER THE JUMP…