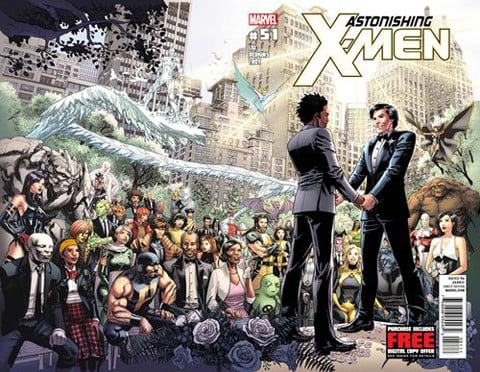 Earlier this month, state media censors in Singapore banned a 2012 Life With Archie comic book for "promoting alternative lifestyles or deviant sexual practices" through the same-sex marriage of its gay character Kevin Keller.
But surprisingly, the same censors have not banned an Astonishing X-Men issue which features the same-sex marriage of the gay superhero Northstar.
Why not? Channel News Asia quotes a spokesperson from the Singapore Media Development Board:
"The MDA takes a holistic view in assessing content and considers all factors, including the context, presentation and language. While themes may seem similar on the surface, depictions and context often vary across different works…
"The issue featured characters who objected to the wedding and this offered a balanced treatment on the issue of gay marriage."
The Board goes onto say that the censorship even though they did not outright ban the X-Men comic, they have advised that it be "shrink-wrapped and labelled with the consumer advice 'Unsuitable for the Young.'"