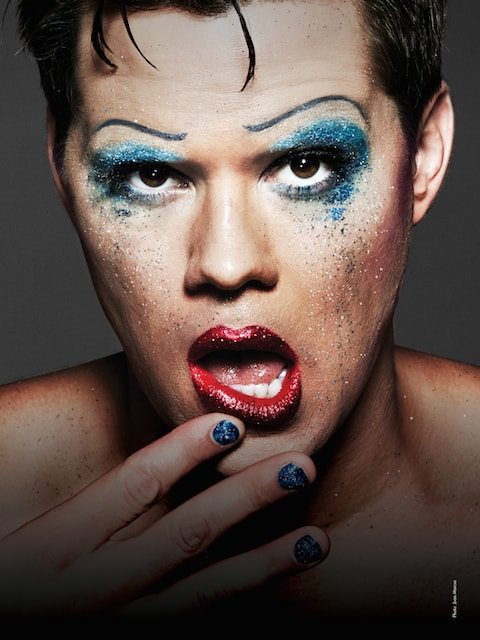 BY NAVEEN KUMAR
Tony nominated in 2011 for his turn as an eagerly pious missionary in The Book of Mormon, Andrew Rannells returns to Broadway this week playing the glam-rock trans goddess in Hedwig and the Angry Inch for an eight-week run. Earlier this summer, the cult 1998 musical brought home Tony Awards for Best Revival and for performances by Lena Hall and Neil Patrick Harris, whom Rannells replaces in the show.
From his breakout role on Broadway, Rannells, 35, jumped quickly into TV with a recurring role on Girls, where he plays Lena Dunham's now gay ex-boyfriend. He also went on to star as a young gay dad in Ryan Murphy's series The New Normal, which ran for one season on NBC.
With his career taking off, the star returns to the stage in a role he's been primed to play since he was a college student in Manhattan. I talked to the actor about his history with Hedwig, his jump to the screen, and Anne Hathaway's best advice to him for walking in heels.
Naveen Kumar: Your last role on Broadway had you all buttoned up, so this time's a little different…
Andrew Rannells: [Laughs] Yes! Yes it is.
NK: Are we watching a drag pro or a novice? Tell me about your history with heels—because they are sky high in this show.
AR: Well, I did a production of Hedwig in 2002 in Austin, Texas, at a theatre called the ZACH Theatre. It's been a long time. This is obviously a very slick production, and there are things that I don't have to worry about, like in Austin I had to do my own makeup and put on my own wig. On Broadway, there's a whole staff of amazing designers who do that for you, which takes a lot of the stress away. I just have to show up! So that's very nice.
The show itself, weirdly even though it was 12 years ago, I still remembered big pieces of it. Songs are a little bit easier to remember, but I was really surprised by the chunks of the script that I remembered, somewhere lodged in the back of my brain.
NK: So, jumping around in heels: not a big deal?
AR: One of the first things they did was give me a pair of rehearsal heels, and I was a little nervous about it because they were like 5-inch high heels.
I had just stared working on the Nancy Myers movie The Intern this summer in New York, and all of my scenes were with Anne Hathaway. I was telling her about it and she said, "You know what? Just don't think about it. Women don't think about it. They just put them on and do it." That was her big advice and it was actually very helpful, because I just thought, I'm not going to stress about this, I'm just going to put them on and see what happens. Knock on wood: I have not fallen yet.
CONTINUED, AFTER THE JUMP…
NK: What was your first encounter with the show? You were in a production 12 years ago, had you seen the movie? Were you a cult fan?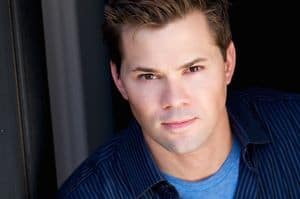 AR: I remember when it opened Off Broadway, it was a few months after I moved to the city. John Cameron Mitchell was everywhere—on the cover of every magazine, he was just every place. Unfortunately, I was a freshman in college and didn't really have my sh-t together, didn't know where the hell the Jane Street Theatre was—I was very confused as to how one would even get there. So I never saw it, but I had the cast album, which I completely fell in love with.
And of course when the movie came out, I saw that. But I remember it very much being such a huge, huge thing in New York at the time that it opened so it was definitely in my psyche.
It was never really anything that I thought I would do or get a chance to do, and then I got a chance to do that production very far away from New York, in Texas. I thought that was it, I never would have dreamed I'd have the opportunity to do it again. It's pretty crazy.
NK: Did you ever fantasize about becoming a rock star growing up, like Hedwig?
AR: I wish I was cool enough to say that! [Laughs] But, what I always dreamed of doing was being on Broadway. That was my dream. So I never had fantasies of selling out a stadium or anything. But, a good friend of mine came to see a rehearsal the other day and she saw the very end of the show, and she was like, "It's so cool, at least you get to pretend to be a rock star in the show!" There's this huge built-in moment where you're very much playing a rock star. So that's pretty satisfying.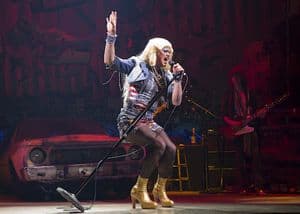 NK: You jumped from The Book of Mormon to working in TV, how do you find it?
AR: It was a great change. Girls was the first show I ever seriously got to work on, and when we started that I was still doing The Book of Mormon. So there was a little bit of safety there, like I was exploring this idea and it was very low pressure because the part was sort of small. Then, by the time the second season of Girls came around, I had just left The Book of Mormon and was thrust into the show in a big way. I was like, Oh, shit—I guess I'm on a TV show now!
Then The New Normal happened, and that involved me moving my whole life from New York to Los Angeles. But the transition wasn't quite as difficult as I would have imagined. I also feel really fortunate that I got to work with writers, specifically with Lena Dunham and Ryan Murphy, who were writing for me in a really great way.
I felt really happy with the stories I got to tell, particularly in The New Normal, Ryan and I talked a lot about what those stories might be, and we had an amazing staff of writers coming up with ideas for me and Justin [Bartha] that felt very natural… Even though, you know, I don't have a baby! So, it felt like a very natural next step.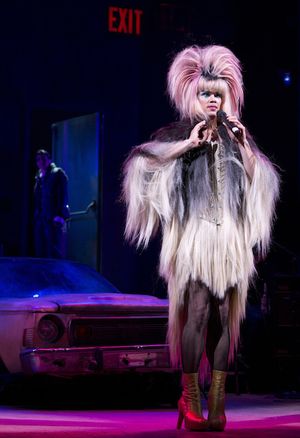 NK: What's next for you? Any dream roles out there you're living to play?
AR: Well we just finished the fourth season of Girls, and I'm happy to have a role in this Nancy Meyers' movie, to get to work with Nancy and with Anne Hathaway and it was really a dream come true to get to stand across from Robert De Niro. That's pretty nuts.
I didn't know when I'd next be back on Broadway, and it was something my agent and I talked about a lot, especially in the last couple years while I was out in LA, looking for something to bring me back to New York and to Broadway, because it was definitely something I wanted to do and it was so hard to find the right show at the right time, with my schedule on Girls. When we talked about the specifics of this, it just seemed too good to be true—perfect timing and a perfect project.
When I finish up in October I head back to Los Angeles and I have a coupe fun projects that I'm in the middle of developing as a writer, which is really sort of exciting. So we'll do that and then before you know it we'll be doing Girls once again next spring. I feel very fortunate to have some things lined up that will keep me very busy for the next year or so. 
Recent theatre features…
New Musical 'Piece of My Heart: The Bert Berns Story' Opens Off Broadway: REVIEW
Tupac Musical 'Holler If Ya Hear Me' Opens on Broadway: REVIEW
Trans Rockers, English Gents and LBJ: 2014 Tony Awards Roundup
David Byrne and Fatboy Slim Musical 'Here Lies Love' Returns Off Broadway: REVIEW

Follow Naveen Kumar on Twitter: @Mr_NaveenKumar (photos:joan marcus)