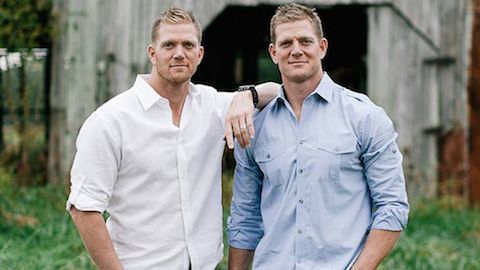 Former reality tv host and religious right poster boy David Benham has said that gay marriage is a satanic attack on God that came about because of people with a "darkened heart" and a "depraved mind."
Benham was appearing yesterday with his equally ridiculous brother Jason on hate group Liberty Counsel's "Faith and Freedom" radio show.
"We've deconstructed gender," said David. "It's an ultimate attack on the creator. So this is where we find ourselves as a culture, is with a depraved mind where we're celebrating and even forcing others to participate in immorality."
He continued:
"What the Lord wants. He wants us to have life and this whole deconstruction of gender, this whole redefinition of marriage, all of these things is a mask for Satan who is robbing and killing and destroying these people who desperately want life. They want to seek the love of a father, trying to find it in the arms of another man and they'll never find it there."
In 2015, the brothers preposterously claimed that they saved a man from homosexuality by buying him tickets to a basketball game. As you do.
Listen via Right Wing Watch below.
[soundcloud url="https://api.soundcloud.com/tracks/301848393″ params="color=ff0000″ width="100%" height="166″ iframe="true" /]