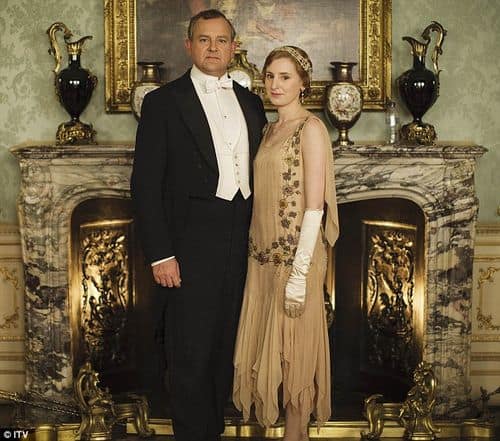 There is something quite wrong here.
Look very closely, and find out, AFTER THE JUMP…
Writes the Mail Online:
ITV hit Downton Abbey will lose serious authenticity after a plastic water bottle caused a very modern mishap on Thursday. The offending item, which has a blue bottle top, can clearly be seen in a promotional picture for the forthcoming fifth series.
The gaffe, which will surely enrage production staff on the smash-hit series, is evident behind Laura Carmichael posing as Lady Edith Crawley with Hugh Bonneville. The continuity error is forty years too soon because plastic bottles like the one seen weren't widely used in the UK until the early 1960s.
The error was discovered by fans of the show in the UK. Somebody's production assistant is getting the axe!