Fayettville could today become the first Arkansas city to implement an LGBT non-discrimination order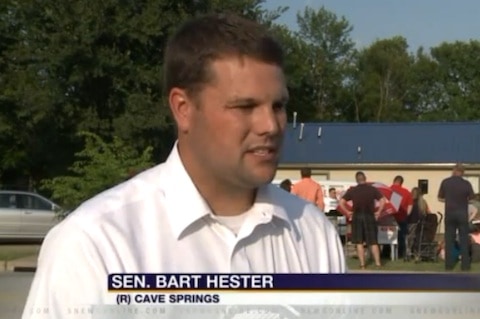 Fayetteville could today become the first Arkansas city to implement an LGBT non-discrimination order (NDO), reports NWA Online.
Alderman Matthew Petty proposed the NDO, which would ban employment discrimination on the basis of ethnicity, gender expression, familial status, marital status, socioeconomic background and veteran status, after being approached by the Northwest Arkansas Center for Equality, an LGBT advocacy group with offices in Fayetteville.
During the proposal's second reading on August 5th, the vast majority of the more than 100 people who packed the City Council chambers criticized the proposed NDO as government overreach and an unnecessary infringement upon residents' religious beliefs.
Speaking against the NDO at a protest last Saturday, Republican Senator Bart Hester said:
"I think they've included a whole bunch of things that are already covered in law, just to protect the few little issues that we all know this is about…this is about telling a church that they have to host a gay marriage that they don't support."
A Monday robocall to voters, narrated by reality television star Michelle Duggar and paid for by the Arkansas Family Council, urged residents to speak out against the NDO:
"I don't believe the citizens of Fayetteville would want males with past child predator convictions that claim they are female to have a legal right to enter private areas that are reserved for women and girls. I doubt that Fayetteville parents would stand for a law that would endanger their daughters or allow them to be traumatized by a man joining them in their private space."
However, Blake Pennington, assistant city attorney, said that such arguments are "nothing more than fear-mongering."
City council member Sarah Marsh, who said that the ordinance "guarantees that all people will have access to housing, employee and public accommodation," expects there to be a vote today following the third and final discussion of the ordinance.
Earlier this month, Billings, Montana Mayor Tom Hanel cast the deciding vote against a proposed NDO that would have protected Billings residents from discrimination based on sexual orientation, gender identity or gender expression.
Watch a report on last weekend's protest, AFTER THE JUMP…