Florida Attorney General Pam Bondi has responded to yesterday's ruling by a federal judge overturning her state's ban on same-sex marriage, the Sun-Sentinel reports: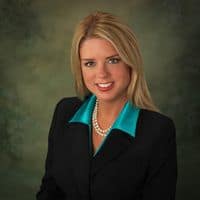 "We want finality. There are good people on both sides. We want finality. That's what we need. The U.S. Supreme Court's going to hear this. They are going to make this determination. And if you hear that I have criticized people personally, I have not. I never will. This is me doing my job as attorney general. And I will continue to do that and if anybody wants me to moderate my message or stand for less I have a message for them: I am just getting started."
Later, in answering reporters' questions, this is what she said about the Democratic candidates who would drop the defense of the ban:
"All I'm going to say is I put my hand on a Bible and I raised my right hand and swore to uphold the Constitution of the state of Florida. This was voted into our Florida's Constitution by 62 percent of the voters not even six years ago…."
Earlier this month, Bondi, citing her desire to "preserve taxpayer and judicial resources" asked state courts to stop considering same-sex marriage cases until the U.S. Supreme Court decides the issue. 
Bondi is running for re-election this year.