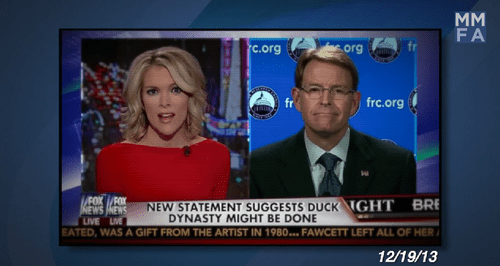 A new report by Media Matters finds Fox News personality Megyn Kelly guilty of inviting on anti-gay hate group leader Tony Perkins more than all other network programs combined.
According to the report, Kelly's shows account for 17 of Perkins' 30 Fox News appearances since the end of the 2012 GOP primary season.
Watch a video spotlighting Kelly's cozy relationship with Perkins, AFTER THE JUMP…
Media Matters adds:
But these numbers don't fully account for Kelly's role in whitewashing the anti-LGBT animus that motivates Perkins' and FRC's work. She's described FRC as "a group whose mission is to advance faith, family, and freedom in public policy and culture from a Christian worldview." And Kelly has repeatedly peddled Perkins' own talking points – suggesting that "Christian beliefs and Christian rights" are being trampled as LGBT rights are ascendant, charging gay rights activists with being intolerant, lamenting that it must be "alienating" for Perkins to be criticized for his anti-LGBT views.