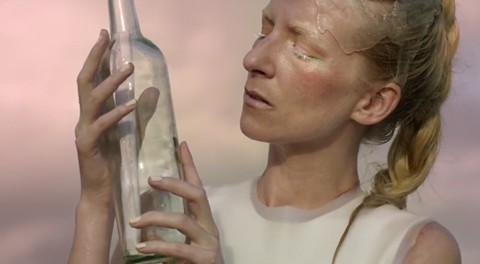 Enigmatic Swedish electronic singer-songwriter iamamiwhoami (aka Jonna Lee) serves up her best Kate Bush in her latest track "Tap Your Glass." The video continues the water theme trickling through  their previous videos.
In a recent note to her fans, iamamiwhoami mentioned an upcoming album that will become available fall of this year:
To whom it may concern,
the birth of this project was one drop in the ocean srpeading with rippled and becoming rapids in your actions. a venture continuously rushing forward by it's own force while ingrained habits of defining, owning and capturing make themselves felt…
in early 2013 the foundation of our third audiovisual series began taking shape. washing clean of all smudge. leaving to see what lies beyond the woods. exploring this vast ocean with hopes of a true relfection…
with this we proudly present the forthcoming release of our third audiovisual album BLIE. a ten episode series released 20141110 on our label… for your to choose what you believe in: to own, to consume or to share.
Watch the video AFTER THE JUMP…