BY ANDY TOWLE
Towleroad spent several months this summer in Provincetown, Massachusetts. 'P-town', in addition to being the nation's historic LGBT resort destination, has also served as an enclave for writers and artists since the late 1800s and continues to attract creative types from all over the world who are drawn by the area's dramatic physical beauty, its numerous arts venues, and its colorful collection of tourists and townies.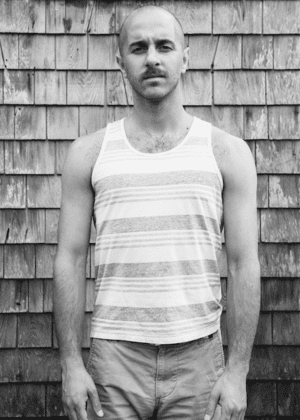 One project we've had our eye on all summer is a photographic documentary series by Emil Cohen, who stationed himself each evening outside the Boatslip (where a daily and long-running 'Tea Dance' is held) and found hundreds of willing subjects to stand in front of his lens.

Emil (pictured, right, in self-portrait) sat down with me this week to share 47 of the portraits with Towleroad and discuss the process and inspiration behind his impressive project.
Who are you and how would you describe yourself as an artist?
My name is Emil Cohen and I'm a professional photographer. I received my MFA this past spring from The School of the Museum of Fine Arts in Boston, MA. As an artist, I find myself drawn to portraiture's ability to capture the human experience.
What inspired you to start photographing people in Provincetown?
This past summer, my fiancé and I had a seasonal rental lined up for the summer, so I knew that the next project that I took upon myself would be shot in Provincetown and more specifically, be about Provincetown. The inspiration behind this particular project was mainly Richard Avedon's In The American West series. I proudly own an original copy of the book (a gem I discovered at Tim's Used Books on Commercial St.) and became inspired to create my own portrait series. I like to believe that people captured in Avedon's work represent real, live individuals, not staged personas. That skill, to embody each person's essence, is something that I strive to achieve in my own work every day.
Is portraiture your specialty?
Portraiture is indeed my specialty. I have always found myself drawn to photographing people, though sometimes photographing their environments provides further light on the subjects. Studying the work of Alec Soth, Claire Beckett, Matt Williams and Brian Schutmaat, has enhanced my understanding that a portrait can be more than just a photograph of a person.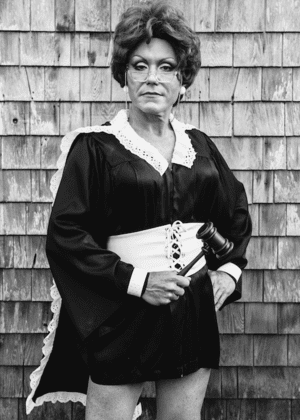 Where did you find your subjects for this project and who are they?
My subjects are all volunteers. I set up my camera on the corner of Atlantic St and Commercial St and ask people if they'd like to participate in a photo series.
How many people did you photograph? Was it over the course of an entire summer, a few days?
I began shooting this project right after July 4th and have been photographing nearly every day so far. Without realizing it, doing this every day, I've captured over 200 people. What's so unique is that each photograph represents a different person's background, perspective, experience, life. What I've realized about this series is that it's not only a portrait series, but also a chronology of a P-Town summer: From Bear week to Family week to Carnival and more.
How did you choose the setting?
The critical aspect of the setting was the continuous backdrop, akin to Avedon's work In The American West. Having people stand in front of the same backdrop forces the viewer to concentrate solely on the person. To me, the storm shingles beautifully represent Provincetown and Cape Cod. Having each person stand in front of the same shingles helped identify the location of this project but also helps create a catalog of people, which as a whole, becomes a portrait of Provincetown itself.
Which are your three favorite portraits and why?
As each person approached the storm shingles in front of my camera, I provided the same simple instruction: "Be yourself." The three portraits I'm particularly drawn to are ones who fully understood my guidance. Specifically, Super Judge Judy, the two men in black singlets, and the young black man in the black tank top named Richard (all this page, click to enlarge). Super Judge Judy and Richard look directly into the viewers' eyes and exude a level of self-confidence that strengthens the photo overall. With the Two Wrestlers, I particularly love how the gentleman on the right got lost in the moment and forgot that I was watching them. For these individuals, a mix of the P-Town atmosphere, and perhaps a few Tea Dance cocktails, helped lower their guards and elevate their presence in the photos.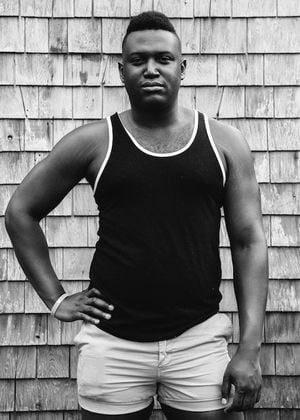 What is it about Provincetown that makes it especially suitable for this type of project?
I love Provincetown's ability to draw out the child from within. Each person, regardless of background, can be who they want, dress how they want, and act how they want. This level of curiosity, openness, and fun was more than a gift for me in this series. By beginning to capture the essence of this small town and its visitors, I'm excited to see this work develop into a portrait of the town itself.
Is there a Provincetown photographic tradition that you admire? Any other photographers?
While I don't have a specific Provincetown photographic tradition in mind, the costumes and theme weeks certainly are a photographer's dream. There are many photographers whose work I admire and turn to for influence. Irving Penn and Avedon are particularly strong inspirations. As are, Bruce Davidson, Gregory Crewdson, Renika Dykstra, Jess Dugan, and Collier Shore.
Did you give your subjects special instructions before photographing them?
Stand in front of the shingles and be yourself.
Do you plan to make this a tradition?
To me tradition isn't something planned, but something that grows organically. Looking back on the project, Portraits in Provincetown is a chronology of portraits, encapsulating the summer of 2014 through a series of photos. Moving forward with the project, returning to the series would expand the idea that this project is an archive which continues to grow every summer. I would love to do such an ambitious project and in five, ten years, have this enormous volume of portraits taken throughout the years to archive Provincetown's history, continuity, and change. We'll see. I do know one thing's for sure: I'll be coming back next summer with my fiancé! (wedding in P-Town anyone?)
Enjoy 44 photos from Cohen's 'Portraits in Provincetown', AFTER THE JUMP…
(you may recognize a few faces, especially near the end)
Visit Cohen's website here and his blog, A Minute for Minute here.