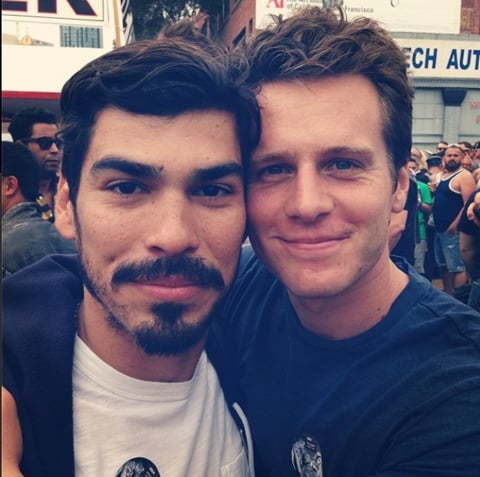 Andrew Haigh, the creator of HBO's Looking, Instagrammed this adorable photo of actors Raul Castillo and Jonathan Groff from the streets of San Francisco's Folsom Street Fair yesterday, where the cast was spending a bit more time. Looking has been shooting its second season since late August in and around the Bay area.
Fans of the show will remember a few pivotal scenes from the show last year for which Groff donned some leather.
Castillo, who recently joined Instagram, posted a photo from the Fair as well, with the caption, "Folsom Street Fair 2014. Check."
Several new actors have joined the cast this season including Mean Girls star Daniel Franzese, Crossbones' Chris Perfetti and Late Night with Jimmy Fallon's Bashir Salahuddin.
Check out 15 more Instagram photos from the set and around town shot by the cast, crew and fans, AFTER THE JUMP…
"Ran into the @lookinghbo cast at #Folsom2014 Got to say hi to my old "friend" @officialraulcastillo #JonathanGroff and #murraybartlett"
"With the competition. Big ups to @russelltovey @lookinghbo #LookingSeason2 #Looking"
"Looking Latinos in da house! #FrankieJAlvarez #TanyaSaracho #LookingSeason2"
"At the Looking table read with the incredible and hilarious Lauren Weedman. Can't get enough of her. @laurenweedman @tsaracho #LookingSeason2"
"Regram from @michaellannan the read thru for episodes 203 and 204 of @lookinghbo #looking is happening #eddie #richie #doris #dom #patrick #augustin #kevin @sexytosomeppl @officialraulcastillo"
"#looking @lookinghbo baseball 3-way #gogiants @sexytosomeppl #at&t #baseball #posey #sanfrancisco #jonathangroff #augustin #patrick #kevin"
"Regram from @javichondo the #looking boys do lunch! #hbo #looking @lookinghbo #richie #dom #patrick #kevin #augustin and the new boys!"
"Regram from @andrewhaigh1973 #looking @lookinghbo night in watching the #Emmys #groff #murray"
"Regram from @michaellannan being photo bombed by @andrewhaigh1973 on night shoot for @lookinghbo @hbo #looking #sanfrancisco #hbo #russianriver"
"Regram @tsaracho who are you #teamRichie or #teamkevin ? Read thru of #looking #hbo with the boss creator @andrewhaigh1973 🙂 x"
"@whatsupdanny pierced from the outside. Happy folsom! #folsomatreetfair #folsom #instagay #looking #hbo @lookinghbo #pierced #nipple #sanfrancisco"
"#streetcars #gafferlove"
"They're #Looking. We found them. (#LookingHBO)"
"Great day with these boys! @lookinghbo @andrewhaigh1973 @michaellannan @johnnyhoffman5 @tsaracho @jhonimarchinko @jclee1230 @sethur987 #looking #lookinghbo #hbo #instagay #gay #russianriver"