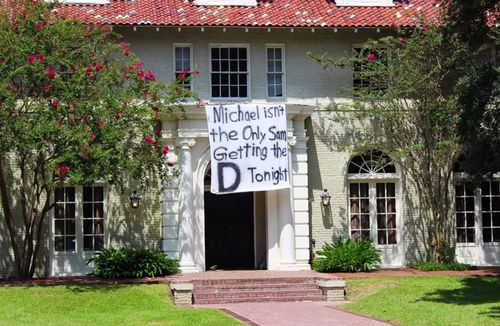 A fraternity at Louisiana State University has apologized for flying a game-day banner outside its house last weekend that read "Michael isn't the only Sam getting the D tonight." The school was playing Sam Houston State University at the time.
The Times-Picayune reports:
The Delta Kappa Epsilon's Zeta Zeta chapter displayed the message, which some deemed offensive, on what appeared to be a bed sheet secured over the entrance of the fraternity house Saturday (Sept. 6). The apology letter says the chapter will stop hanging signs in front of the DKE house "indefinitely."
"Zeta Zeta is a chapter full of rich traditions, one of them being our game day banners," the fraternity wrote.
"Though satire is sometimes the goal, crossing the line and causing offense to others is never the intent," the letter from the DKEs, addressed to LSU President and Chancellor F. King Alexander, said. "We truly apologize to you and all other members of the LSU community who have had to deal with the effects of this banner."
LSU, which asked the banner be taken down, said it did not condone the fraternity's "hurtful actions" and the school's Dean of Students K.C. White plans on meeting with interested parties to further discuss the incident.
Unfortunately, this is only the latest in a long line of offensive banners that the fraternity has flown in past years. You can check out an LSU Tiger TV report on the current controversy and previous frat banners, AFTER THE JUMP…