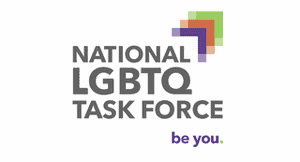 In an effort to strengthen its position as one of the country's leading organizations fighting for queer equality, The National Gay and Lesbian Task Force has rebranded itself the National LGBTQ Task Force. Though the Task Force remains dedicated to its original mission of advancing the rights for lesbian and gay individuals, its new name is meant to reflect an evolution of the group's focus.
Rea Carey, the Task Force's Executive Director, explained that recent advances in the fight for marriage equality were a foundational part of the modern gay rights movement, but there was still more work to be done.
"There is a deep desire for more change, to look beyond marriage equality," she explained in a statement. "With millions of us still facing formidable barriers in every aspect of our lives: at school, in housing, employment, in health care, in our faith congregations, in retirement and in basic human rights."
The Task Force's inclusion of bisexual, transgender, and queer identities is the latest in the organization's effort to foster the development of a socio-politically inclusive group of sexual minorities. The rebranding is joined by the new "Be You" tagline, encouraging all  people marginalized for their gender expression or sexuality to feel welcome within the Task Force's cause.
"Now more than ever we have the power to define the future we want — a world where every LGBTQ person can be themselves without any barriers," said Carey "We have worked hard for decades to create this momentum. Let's seize this opportunity, let's be ourselves fully, and let's make a future together that's worthy of our struggle."
Watch the National LGBTQ Task Force's latest video introducing its Be You campaign AFTER THE JUMP…