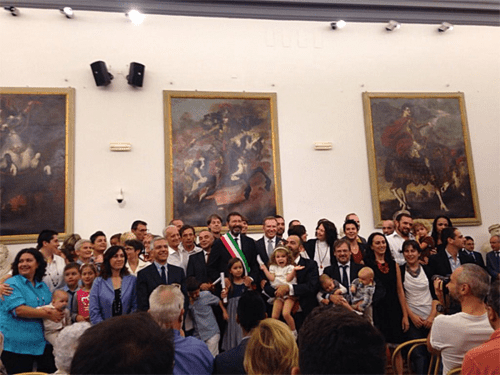 Rome's Mayor Ignazio Marino registered 16 gay marriages into city books today in defiance of Italian law, Bloomberg reports: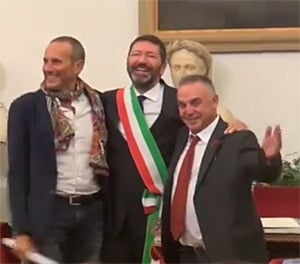 "Today is a special day that I hope will soon become a normal day," Marino posted on his social media account along with pictures of himself wearing the mayor's sash, posing with the smiling couples and their families inside Rome's city hall. "How can you not call this love?" he asked in another post.
The move is controversial for a country that does not recognize same-sex unions of any kind. Interior Minister Angelino Alfano immediately responded through his own social media account, saying the mayor's transcriptions weren't valid.
"According to Italian law, this is not possible," Alfano posted. "Marino's signature can't be a substitute for the law, all he did was give these very respectable couples his autograph."
Watch videos of the event, as well as a "pro-family" protest outside, AFTER THE JUMP…
Marino had promised at the 20th anniversary of the first Rome Gay Parade in June that he would approve a civil union register and registration of gay marriages performed abroad.
Ecco le 16 coppie. Le ho salutate citando "Se saprai starmi vicino" di Neruda #romatrascrive pic.twitter.com/AaTdZ8y8EB

— Ignazio Marino (@ignaziomarino) October 18, 2014