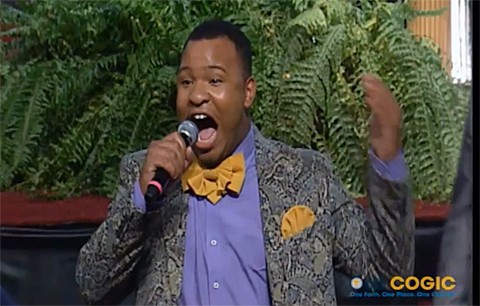 At the Church of God in Christ's 107th Holy Convocation in St. Louis, Missouri over the weekend, a 21-year-old man declared himself "delivered" from homosexuality, and a clip of his declaration and the church's subsequent celebration have gone viral with the help of a Vine clip.
Watch the full video, AFTER THE JUMP…
Said the man:
"I'm not gay no more. I am delivered! I don't like mens no more. I said I like women. Women women women women! I said women! I'm not gay! I would not date a man! I would not carry a purse! I would not put on make-up! I will, I will love a women."
As the church celebrated, the pastor rewarded the man with $100:
"We love you son. You can live for God. Your past is just that, behind you. Better is in front of you. He's a brand new creature…God said he's going to bless you because of your commitment. Just to prove it, he just told me to give you $100."
Watch the full video, AFTER THE JUMP…