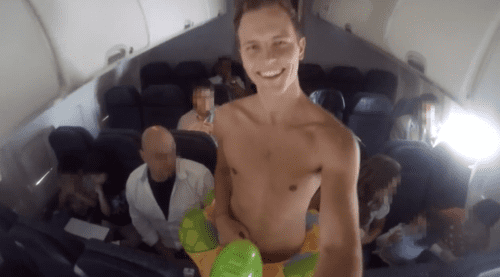 French Vine star Jerome Jarre was taken in for questioning by the FBI, after he pulled a prank where he wore a speedo and inflatable pool toy on his American Airlines international flight from Mexico City to Miami.
An alarmed flight attendent called the police after seeing Jarre. Boston.com has a round-up of the prankster's tweets to his fans for help/outcry while he was being questioned by the FBI. In the end, Jarre says the agent questioning him said this was the silliest case he'd ever had to deal with, and Jarre faced no charges or punishment.
You may know Jarre from his celebrity pranks and especially the time John Stamos saw his cheek kiss and raised him a smooch on the mouth.
Below is the video of the would-be prank, and the abrupt shutdown by the flight attendant. I can think of at least two people who might not have been so bothered by the antics.
Video is AFTER THE JUMP…