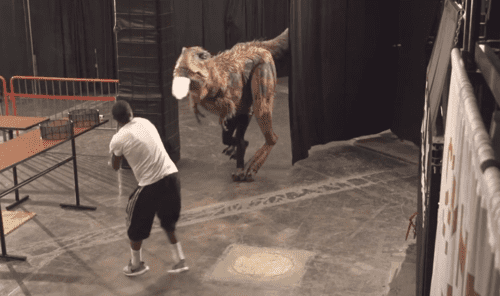 Of all the things you wouldn't want to come face-to-face with on Halloween, "dinosaur" is probably somewhere near the top of the list.
NBA team the Phoenix Suns got pranked by the BBC's Walking With Dinosaurs exhibition, an arena show that confronts attendees with life-like, life-sized dinosaurs.
Watch the team's reactions as a dino pops out from behind a curtain. Pictured above, probably the highlight of the vid, rookie Archie Goodwin proves himself "a live one" and good at thinking on his feet, throwing his water jug at the creature. There are plenty of more great reactions, though.
Check out the residual Halloween fun, AFTER THE JUMP…