Finland's Parliament is today set to vote on a proposal to make marriage gender-neutral and provide for marriage equality

In a vote of 105-92, Finland's Parliament today approved a bill to legalize same-sex marriages, reports Yle.
Parliamentary Speaker Eero Heinäluoma tightened security ahead of the vote, calling for calm on what has been a polarising subject both inside and outside the chamber. However there were no reports of disruptive behaviour – with one Yle correspondent describing the scene as having a Carnival-like atmosphere.
The reform will force wide-ranging changes in other legislation, which will take well over a year to finalise. The law will therefore not take effect until 2016 at the earliest.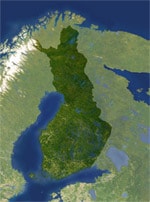 The Parliament's Legal Affairs Committee had recommended the bill be rejected, arguing that allowing same-sex marriage might make adoption from abroad more difficult, particularly from neighboring Russia. Previously, the Legal Affairs Committee had blocked the law on two occasions.
160,000 people signed a petition in favor of the legislation and a majority of party leaders – including National Coalition Prime Minister Alexander Stubb – signaled their support for same-sex marriage.
Finland is the last of the Nordic countries to legalize same-sex marriage.
Watch "18 Nonsensical Statements by Finnish MPs Against Equal Marriage" – which includes the usual guff about how same-sex marriage discriminates against straight people – AFTER THE JUMP…
In July, the Archbishop of Finland's Evangelical Lutheran Church apologized for the cruel treatment of gay people and other sexual minorities.
[top photo via Facebook]