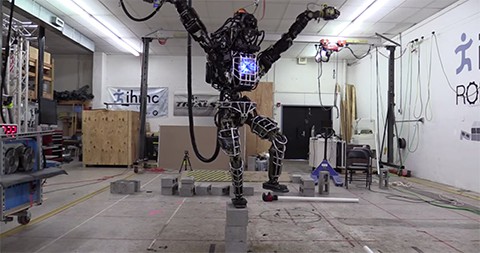 Boston Dynamics, a firm owned by Google, has created a robot that is at once awe-inspiring and terrifying. In a new video released by the tech firm, the robot simulates a balancing act that may be familiar to fans of the film The Karate Kid, as The Guardian points out:
The Atlas robot created by Google-owned firm Boston Dynamics is a formidable figure at 6ft 2in tall and weighing in at 330lb.
The robot boasts 28 hydraulically actuated joints and stereo vision, and is one of the most advanced robots ever created.
However, it's not just karate – Ian has another trick up his sleeve – software written by the Florida Institute for Human and Machine Interaction which allows him to drive a car.
'To achieve this level of maneuverability in robots, researchers at IHMC look toward nature,' the team say.
'Inspired by the speed of cheetahs, the endurance of horses, the maneuverability of monkeys, and the versatility of humans, IHMC researchers are on a quest to develop legged robots that are fast, efficient, and graceful, with the mobility required to access many of the same places that humans can.'

Watch Ian in action, AFTER THE JUMP…