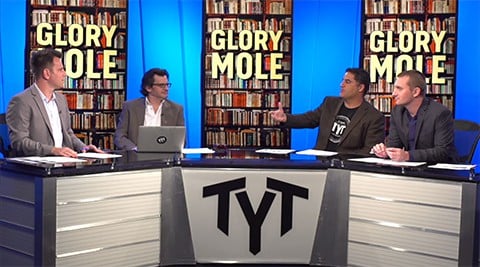 Cenk Uygur and The Young Turks recently took to discussing some hullabaloo surrounding gay men soliciting sex in the mens' bathroom at the library of Cal State University, Bakersfield. According to the Runner Online, men have been soliciting meet-ups at the mens' room in question on Craigslist. Notably, the restroom in question has a glory hole which the university has been trying to cover up but students keep dismantling the patch job. Some students however have been upset about the dangerous liaisons happening in the library.
Said Ben Mankiewicz, "Who are these f–cking kids all disgusted by this? These are college kids having sex in the bathroom. [Gavel bangs] Acquitted."
Added Uygur, "If your natural reaction is, 'I have to put an end to that, you're an a–hole."
The guys also agree that the glory hole in question is "a terrible glory hole."
Watch the discussion, AFTER THE JUMP…