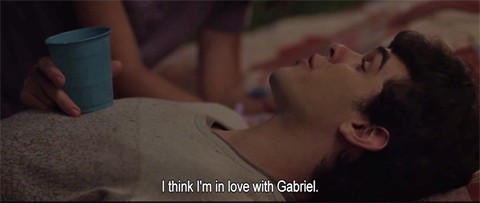 Earlier this year, two of Towleroad's film reviewers spoke highly of the Brazilian film The Way He Looks, which won the FIPRESCI Prize and Berlin's Teddy Award, as well as audience awards at Frameline, Outfest, and Newfest.
The film opens in New York and nationwide tomorrow (list of cities here), and the filmmakers have offered us a short exclusive clip (apologies, it's a night scene and a bit on the dark side) to share with you. You can also view the trailer in our earlier discussions of the film HERE and HERE.
The film is about Leo, a blind, bullied teen who decides to study abroad to escape his problems at home but reconsiders when he develops a crush on Gabriel, a new kid in town.
In this scene Leo, played by newcomer Ghilherme Lobo, comes out to his best friend Giovana (Tess Amorim) who may already be in love with him.
Watch, AFTER THE JUMP…
Our film critic Nathaniel Rogers also has a review on his site, The Film Experience.