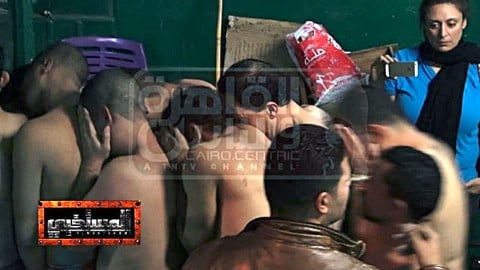 An Egyptian TV reporter broke the law when she disseminated information about some of the more than two dozen men arrested in a raid of a gay bathhouse on Dec. 7, according to a statement from activist groups. 
Mona Iraqi, a reporter for the pro-government Al-Qahira wal Nas channel, can be seen filming the arrests on her mobile phone above. Iraqi had tipped off Egypt's morality police about the bathhouse and accompanied them on the raid, according to reports.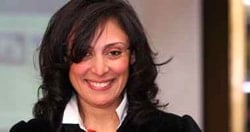 "With pictures, we reveal the biggest den of group perversion in the heart of Cairo," Iraqi (right) later wrote on Facebook, where she posted photos from the raid. The Facebook post has since been removed.
A trailer promoting Iraqi's investigative report said it would reveal "the secret behind the spreading of AIDS in Egypt," and she defended the three-part series an interview with Voice of America.  
But 10 activist groups from the Middle East and North Africa have issued a statement accusing Iraqi of criminal conduct. The statement was published by Cairo gay activist Scott Long's A Paper Bird:
"Besides prying into people's intentions and their private, consensual practices, this presenter clearly violated articles 75 and 58 of the law of criminal procedures: these prohibit anyone from disseminating information about persons arrested by the police to others who do not have standing in the case. We demand that the presenter, Mona Iraqi, be held accountable before the law for misusing her profession to violate the privacy of others and slander and misrepresent them, and for pursuing professional benefit regardless of consequences."
The raid was part of a horrific, unprecedented crackdown on LGBT people by the Egyptian government under President Abdel Fattah al-Sissi, who seized power last year. According to the activist groups, more than 150 people have been arrested on the assumption that they are gay or transgender — even though homosexuality is not technically illegal — since June 30, 2013: 
"In some cases prison sentences of eight or nine years have been imposed, on legal grounds that are incorrect or fabricated. The arrests have been accompanied by a still more monstrous media crusade, publicizing the personal information of those arrested, publishing their pictures, even posting filmed interviews with them. The media present homosexuals as a group of 'sick' individuals and criminals in need of therapy — or paints them as a deviant community that spread after the revolution."
In September, Grindr sent a message to all Egyptian users warning that police officers may be "posing as LGBT on social media to entrap you." And on Nov. 1, eight men were sentenced to three years in prison after taking part in an alleged same-sex wedding which was recorded and posted to YouTube.
Following the ouster of former President Hosni Mubarak in 2011, LGBT people in Egypt hoped for freedom under a new democracy, The Washington Post reports. But those hopes have been dashed as as-Sissi aims to distract people from Egypt's economic woes and appear as socially conservative as the Muslim Brotherhood from which he seized power.  
Once in police custody, LGBT prisoners are often subject to anal examinations, beaten and threatened with rape, The WaPo reports. They are reluctant to contact their families due to the social stigma of homosexuality, and few attorneys will represent them.  
Sadly, al-Sissi's government is funded in part by the US. The Washington Blade reports that the State Department issued a statement in response to the bathhouse raid, but officials have not said whether the US will cut funding to Egypt, as it did in response to Uganda's anti-homosexuality law. From The Blade:  
The U.S. during the 2014 fiscal year gave $1.5 billion in aid to Egypt, with the majority of it going to the country's military. The State Department said more than $7 million of this allotment went to "other security assistance programs." 
Watch the first part of Iraqi's report, for which she is getting hammered on her Facebook page, AFTER THE JUMP …