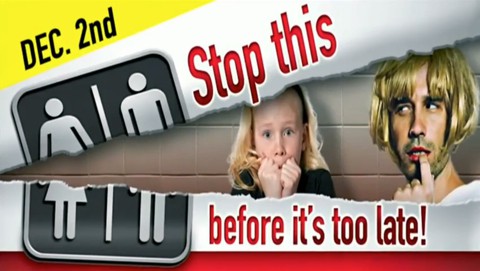 Sixteen years — almost to the day — after the Miami-Dade County Commission banned anti-gay discrimination, its members voted Tuesday to extend those protections to transgender people. 
After several hours of testimony from speakers on both sides, the commission voted 8-3 to add gender identity to county laws prohibiting discrimination in employment, housing and public accommodations. More than 170 people signed up to speak, many of them mobilized by the fear-mongering mailer above, according to WPLG-TV.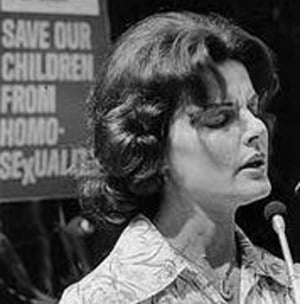 The addition of sexual orientation to the laws in 1998 reversed the outcome of an infamous 1977 ballot measure championed by beauty queen Anita Bryant (right) — which overturned the commission's initial decision to ban anti-gay discrimination.  
From The Miami Herald: 
During Tuesday's debate, there were repeated echoes of Dec. 1, 1998, when commissioners — by a single vote — banned discrimination against gay men and lesbians. … The man who was the swing vote back then, Commissioner Dennis Moss, was absent this time around, though he co-sponsored the legislation.

"It's interesting to note that in the 16 years that have transpired since we passed the ordinance, while much catastrophe was predicted by the opposition, the world has not come to an end," said Katy Sorenson, the former commissioner who sponsored the 1998 legislation.
Not unlike the battle over gay rights in Miami-Dade, the battle over transgender protections there could ultimately take on broader significance. It's been nasty at times — one Cuban-American commissioner who backed the amendment was accused of being a Communist — and supporters expect a ballot measure aimed at overturning it. 
Miami-Dade joins 27 other Florida cities and counties with similar laws, and
BuzzFeed
reports that Tuesday's vote could be a tipping point for statewide LGBT protections. Meanwhile, other major cities across the US, from Cleveland to Houston, are grappling with similar laws. 
In those cities, like in Miami-Dade, opponents have relied heavily on the baseless right-wing myth that sexual predators will use the laws to sneak into women's restrooms. From
Buzzfeed
: 
"There are cases of the deviants who will take advantage of this," said Commissioner Esteban Bovo, who represents suburban Miami. He would only support the ordinance if it carved out an exception so it did not apply to transgender people using public bathrooms. "We have to be mindful of a segment of the population, who is probably a majority, who is very concerned with this issue," he said. "It is a concern for the safety of their family."
But in the end, a majority of the commission rejected a bathroom amendment and sided with supporters of the ordinance, who characterized the measure as a basic civil right.

"It's a scare tactic when we come down to the bathrooms and locker rooms," said Commissioner Audrey Edmonson, one of the ordinance's primary co-sponsors. "These are scare tactics." … 
Mayor Carlos A. Gimenez plans to sign the measure. 
Watch the report from WPLG-TV, as well as clips of testimony from supporters of transgender protections, AFTER THE JUMP …