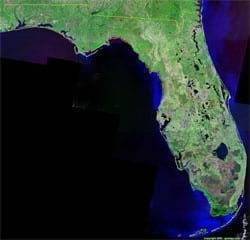 Miami-Dade County Circuit Judge Sarah Zabel has set a hearing date for Monday, January 5 to review a request from Miami-Dade Clerk of Courts Harvey Ruvin asking Zabel to lift the stay of her ruling against Florida's same-sex marriage ban issued earlier this year. January 5 is the same date that a stay of a separate ruling against the Sunshine State's voter-approved marriage ban is set to end. The Miami Herald reports:
It's unknown whether Zabel will lift the stay in her case at the 11 a.m. hearing on Monday.
"We're hopeful that she will let Miami-Dade lead the way," said Miami Beach attorney Elizabeth Schwartz, who is helping represent the six same-sex couples and LGBT-rights group Equality Florida Institute in the case. "There's something beautifully poetic about marriage coming first to the county where the Anita Bryant debacle happened. So much homophobia sprang out of Miami-Dade County at the hands of determined bigots. What sweet justice is it that discrimination of this kind should end here?"
In July Zabel ruled broadly
 against the marriage ban, stating that the majority does not have the right to vote on the constitutional rights of the minority. "A state's constitution cannot insulate a law that otherwise violates the U.S. Constitution," she wrote. "The United States Constitution would be meaningless if its principles were not shielded from the will of the majority." She went on to argue that Florida's marriage ban "offends basic human dignity" and that "without a rational relation to a legitimate governmental purpose, state-imposed inequality can find no refuge in our United States Constitution."
The state case as first decided on by Zabel and still to be considered by Florida's Third District Court of Appeal, has been progressing concurrently to a federal challenge to Florida's marriage ban, a case that has garnered more media attention because of the pace at which it has moved as well as the players involved. Florida Attorney General Pam Bondi (dubbed the modern day Anita Bryant) asked the U.S. 11th Circuit Court of Appeals to extend Judge Robert Hinkle's stay (set to expire on January 5) while the appeals process continues. The 11th Circuit denied Bondi's request as did the U.S. Supreme Court shortly thereafter. Though these successive defeats for Bondi would appear to be a victory for marriage equality advocates everywhere, anti-gay groups are now attempting to limit the scope of Judge Hinkle's ruling (arguing it applies either to only one couple or one county, not all Floridians) and threatening legal action against county clerks who would issue marriage licenses to same-sex couples.