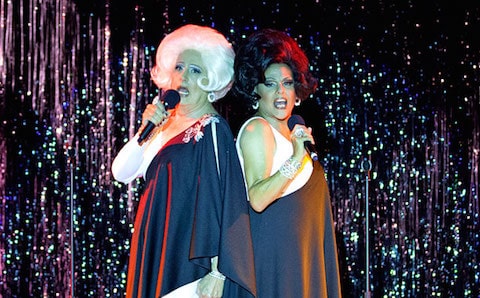 With so many great shows on TV, who's got the time to watch them all? This year featured some incredible stories and performances on established shows, but a handful of new programming really shined. 
Take some time before the New Year to catch up on TV shows that debuted in 2014. See our favorites from this year, AFTER THE JUMP … 
Transparent, Amazon
Hands down my favorite new show of 2014 is Amazon's Transparent. Jill Soloway's exploration of identity, gender and family is sharply written, but always tenderly felt. Plus, my god, Jeffrey Tambor. His portrayal of Maura Pfefferman is so gentle, so loving and so thoughtful. Every one of the Pfeffermans is on a journey, but it's Maura's transition that gives the story its incredible heart. Tambor's weary face carries the years of Maura's struggles so well, and it makes her moments of discovery shine all the brighter. Give him all the awards, please.
Broad City, Comedy Central
In a year where feminism took the spotlight in popular culture, Abbi Jacobson and Ilana Glazer stepped up as two of the brightest, boldest voices in comedy. Executive-produced by Amy Poehler, their half-hour escapades around Brooklyn are filled with some of the strongest stoner jokes, most out-there absurdist humor and one of the richest relationships on television, no gender qualifier necessary.
How To Get Away With Murder, ABC
This fall's buzziest new drama is worth talking about for a few reasons. First off, Viola Davis gives a powerhouse performance that will have her picking scenery out of her teeth for years to come. Secondly, the breakneck pace of the series' unfolding mystery keeps momentum pumping through each case of the week, saving Murder from becoming a belabored procedural. But, let's be real, the show's steamy same-sex sex scenes are what's really got our interest piqued. Not only because gay law student Connor Walsh (Jack Falahee) is smoking hot, but because HTGAWM isn't afraid to depict gay sex as passionately as any scene between a man and a woman.
Last Week Tonight With John Oliver, HBO
Just when we thought the comedy news format had reached its peak, along comes Oliver. The Daily Show vet's solo outing has elevated the genre in a few key ways. First, never underestimate the power of a well-placed profanity, and Oliver and his writers know just how to take advantage of their broad premium cable boundaries. Second, the weekly format frees them from the daily grind of nightly news, allowing them to dive deeper into topics like the prison system, Miss America's finances and the predatory loan business (above).
The Hotwives of Orlando, Hulu
Whoever is behind this hilarious send-up of Bravo's Real Housewives franchise certainly must be a fan of the original. The satire is spot-on and everything from the psychic medium's electronic cigarette to the faux Andy Cohen post-show stinger shows an incredible attention to detail. Featuring funny ladies Casey Wilson, Kristen Schaal and others, any Housewives-fan (or, more likely, a victim of being sucked into an all-day marathon) can get a laugh from giving this series a stream.
Looking, HBO
Hey, count me among the crowd slamming this show's early episodes for being so very boring. But, once Looking found its groove (and dropping the unrealistic, high expectations of it being the definitive gay series) it became a much stronger character showcase. The turning point was episode five, "Looking For the Future." Focusing on a daylong adventure between Patrick (Jonathan Groff) and Richie (Raúl Castillo) played to the strengths of executive producer/writer/director Andrew Haigh, the man behind the similarly structured film, Weekend. While Agustin (Frankie J. Alvarez) never quite connected, I'm really looking forward to the return of Patrick, Richie, Kevin (Russell Tovey), Dom (Murray Bartlett) and Doris (Lauren Weedman).
What are your favorite new shows this year?