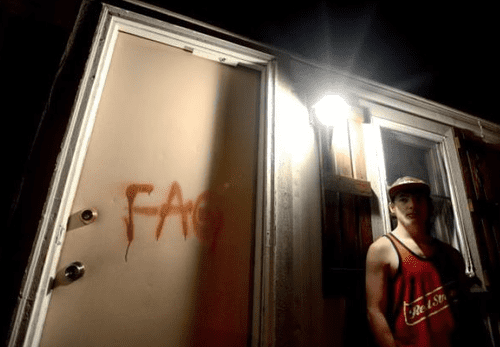 A bisexual Montana teen found a gay slur spray painted on his trailer door after spending the night at a friend's house reports Billings Gazette. 18-year-old Cain Stacy arrived home in the early hours of the morning to find the slur "fag," still wet, painted on the front door of his trailer. Stacy is not so much upset about being called the slur, but is moreso upset that someone had the nerve to deface his family's property with it.
Stacy's mother, Hiedi Hanna, lives next door and owns both properties. Hanna and Stacy reported the incident with police, but both are disappointed with how the case is being handled. Stacy informed the police of a potential suspect, but Billings Police Department Lt. Kevin Iffland said the suspect denied any involvement and consented to a search that yielded no evidence of their involvement. Iffland said the crime is classified as a criminal mischief with a bias motivation noted against bisexuals; the case is currently closed because police ran out of leads in the case however, should the department receive tips or other news about the case, then they will reopen it.
Until then, Stacy is stuck with the slur on his door; it's currently too cold to apply a fresh coat of paint to the door because it won't stick. For the time being Stacy is covering the slur with a plastic bag. "I just want it off my damn door," Stacy said. 
The Montana Board of Crime Control finds that overall hate crimes are decreasing over the last few years although there are occasional spikes; in the year of 2006, Montana saw a high of 154 reported hate crimes, while the last two years have only seen between 40-50 reported hate crimes. Out of 49 reported hate crimes in 2012, only 12 of them involved sexual orientation biases.