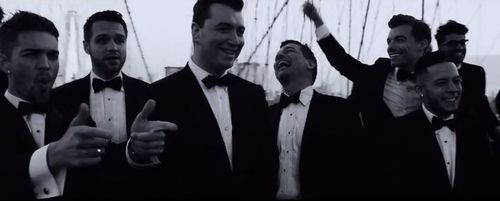 Sam Smith tells The Sun that he is dating a man who served as an extra on his video for "Like I Can":
"It's very early days. I'm talking very, very, very early days. But he's really sweet… he was one of 20 extras. It's a surreal thing to be talking about because I haven't even confirmed with him that we're officially seeing each other."
Sam doesn't think that he'll ever find a place where he is content, however: "People need to realize I'm never going to be happy. The reason I do what I do is because I'm an artist who is always going to be blue about something."
Smith has a lot to be happy about at the end of 2014, however. In addition to his six Grammy Nominations for In The Lonely Hour, the RIAA announced today that the album has been certified Platinum.
In addition to In the Lonely Hour selling more than one million copies via physical and download album sales, it has sold an additional one million via track- and stream-equivalent albums (as computed by Nielsen SoundScan).
Watch the video for "Like I Can"  HERE if you missed it.