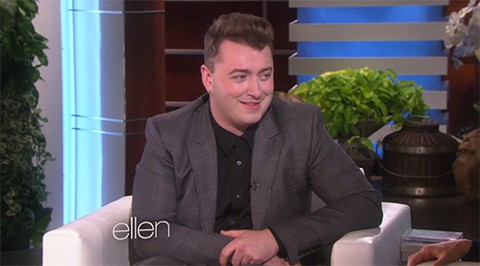 Out crooner and man of the moment Sam Smith stopped by Ellen yesterday and talked about his recent American Music Award win and about why he decided to come out before he released his debut album, In The Lonely Hour. Though, according to Sam, it didn't really feel like a coming out:
"I came out when I was, like 4 years old. My mum said she knew when I was like three. So I didn't have to actually properly come out…So I came out at a very, very young age. I kind of felt like I just had to mention it before I released my record. Just so people knew who the record was about. And it felt like a brave thing to do, as well. I wanted to do it before because if I did it afterwards people probably would have thought I was lying just to sell records, which wasn't the case."
Referring to his previous remarks that he didn't want to be a spokesperson for the gay community, Smith clarified his stance:
"I do, of course I do [want to be a spokesperson for the gay community], but I want to be a spokesperson for everyone. Ya know straight people, gay people, bisexual. I don't want to be limited."
Watch Sam open up to Ellen and also perform his latest single, "I'm Not The Only One," AFTER THE JUMP…