Peter Cohen, Manuel Flores, and Hiroyuki Furumoto have built an indoor playland for their 15 rescue cats which is unlike anything you've ever seen.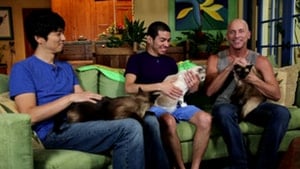 The playland consists of dozens of platforms, tunnels, nooks, spiraling ramps, and holes that look like a shark's gaping mouth on which the cats can scratch their backs. It even has closets with filtration systems and exhaust fans to hold the many litter boxes as well as constantly cleaning Roomba vacuums.
Cohen, who lives in Goleta, California (near Santa Barbara), says that he has spent as much as $50,000 on the project.
Check out the clip, AFTER THE JUMP…
While the video from HouzzTV which began going viral this week says nothing about the relationship between the men behind the project, a bit of sleuthing shows that both business and romantic relationships are fueling the project. And a mad love of cats.