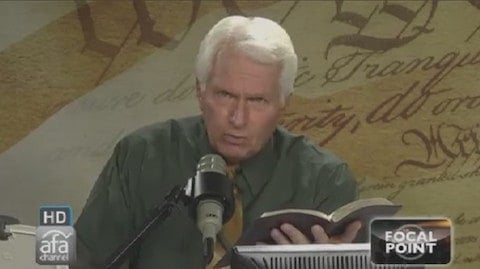 It would seem that AFA's Bryan Fisher is throwing his lot in with Bill Donohue in making hateful remarks about the victims of the Charlie Hebdo massacre and blaming them for their own murders.
In a video posted online, Fischer says:
This magazine, Charlie Hebdo, made a career out of taking the name of god – the god of the Bible, the father of the lord Jesus – they made a career, they made their bones out of taking his name in vain. […] Now, you know, you look at the Old Testament, at what happened to Judah, and god used a pagan nation. I mean, he used idolators, he used the savage armies of Babylon to discipline his own people. He brought them in as the rod of his wrath to discipline the nation Judah. They even got carted off to Babylon as a part of this punishment.
Bryan Fischer's view of religion and deities is truly demented, and utterly as vile as any Islamic extremist. One wonders if Hugh Hewitt would give the American Family Association talking head as thorough a lambasting and ridiculing as he did the Catholic League.
In the meantime, if you think you can stomach it you can watch the video, AFTER THE JUMP…