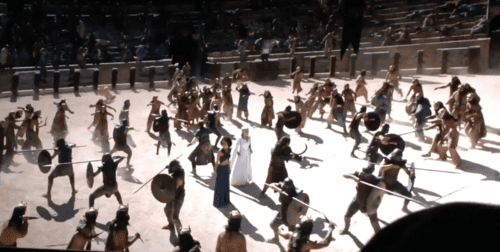 The exclusive IMAX trailer for Game of Thrones season five leaked online today after the trailer premiered before IMAX screenings of the last two episodes of season four in select theaters around the nation. The leaked footage was shot on a filmgoer's camera or phone; although the quality isn't perfect, the audio is quite clear and the video quality is good enough to make out particular scenes and characters' faces.
Season five primarily adapts George R.R. Martin's fourth novel in the series, A Feast For Crows, and parts of his fifth and most recent novel, A Dance With Dragons. The publisher behind Martin's sixth entry in the saga, The Winds of Winter, issued a statement today saying that the eagerly awaited sixty entry will likely not be published this year. However, the publisher did note that three of Martin's previous novellas set in the world of Game of Thrones is set to release in a complete anthology in October, expanding upon past events in the world of Westeros and providing new insights on what is to come in the future of the series.
Luckily, the show continues to plug on for eager fans, and the trailer for season five doesn't disappoint. Watch Tyrion scheme with Varys the Spider, dragons roar and empires crumble (quite literally), before the video gets taken down, AFTER THE JUMP...